This is a review of the Rep Fitness AB-5200,  a commercial-grade, adjustable ladder bench with not only all the standard features you'd expect from a commercial bench, but a number of very unique characteristics as well; things like grippy vinyl, improved mobility, an optional spotter platform, and more. The 5200 is also one of the only ladder benches (if not the only) that can be stored upright. And the price! It could not be more competitive.
In this comprehensive review of the AB-5200, I will cover the specifications and features of this bench, list all the pros and cons, and put the AB-5200 up against the infamous Rep AB-5000. As always, if this review leaves you with unanswered questions, leave a comment!
---
AB-5000 Bench Review – Table of Contents
---
Rep Fitness AB-5200 Adjustable Bench Specifications
11-gauge and 7-gauge 2″ x 3″ steel frame

maximum capacity: 1000-lbs
total weight: 125-lbs

dimensions

footprint: 20.5″ x 56″
back pad: 12″ x 42″ x 2.5″
seat length: 11.75″
total pad length (flat): 55″
floor to top of pad (flat): 17.5″
seat/back pad gap (flat): 1.8″

(7) back pad adjustments (0º, 15º, 30º, 45º, 60º, 75º, 85º)
pads are dense foam with grippy vinyl cover
(3) seat pad adjustments
features a unique caged ladder system

makes adjustments super easy
helps make it possible to store the bench upright

wheels and handle for easy mobility around the gym
horizontal handle is more user-friendly than a vertical handle
available in (3) colors with more likely being added
optional spotter deck available ($90)
retail price $449
---
Rep AB-5200 Adjustable Bench Review – Cages
The feature that makes the Rep AB-5200 really stand out among other adjustable benches; (especially other ladder-style adjustable benches) is the inclusion of a cage around both the ladders. The cages keep the adjustment rod near the ladder at all times, which helps us out in a couple of different ways.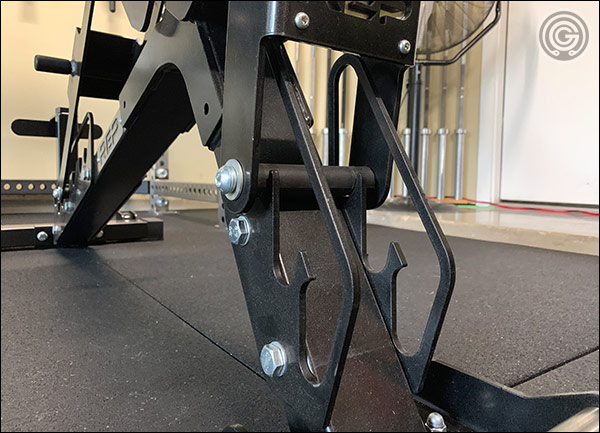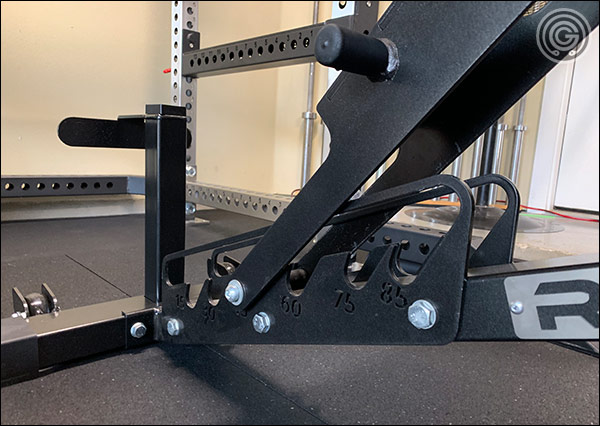 First, it makes raising the pads easier than any other adjustable bench. With one hand, you only have to lift the pad to the desired height, then let the pad go. The rod will fall into place and you're good to hop on. I'm not exaggerating, you can adjust either pad in no more than a second.
I also find it easier to lower the pad since you don't have to really do much more than lift the pad up by the support assembly and allow it to gently slide back to the lowest position. This is made even easier by a pair of handles, something not all ladder benches have.
Finally, and arguably best of all, it's the cage around the rear ladder that helps even make it possible to stand this bench up on its end. Ladder benches cannot usually be stored upright because it's gravity that keeps the back pad in position. Try to place any other ladder bench on its end and it will instantly collapse, or unfold, and fall over.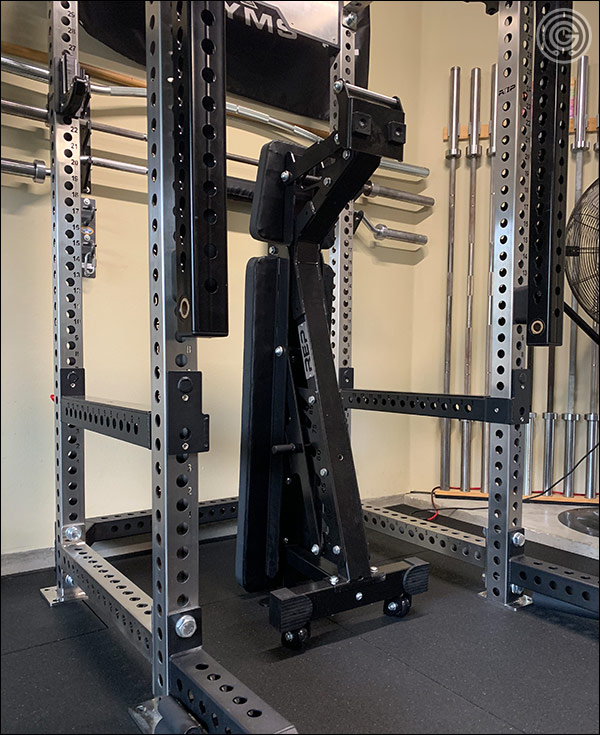 The rear support bar of the AB-5200 allows you to stand it on its end, and that ladder keeps the back pad from swinging and sliding away from the frame and toppling over. It's really an incredibly clever feature, the ladders.
---
Rep AB-5200 Adjustable Bench Review – Pads
The Rep AB-5200 has 2½"-thick, vinyl-covered, dense foam pads. The material is indeed a dense, supportive material and the vinyl is Rep's grippy vinyl, the same product used on the Rep FB-5000 pads. As with all of Rep's current benches, the craftsmanship and stitching of these pads is top-notch; very professional.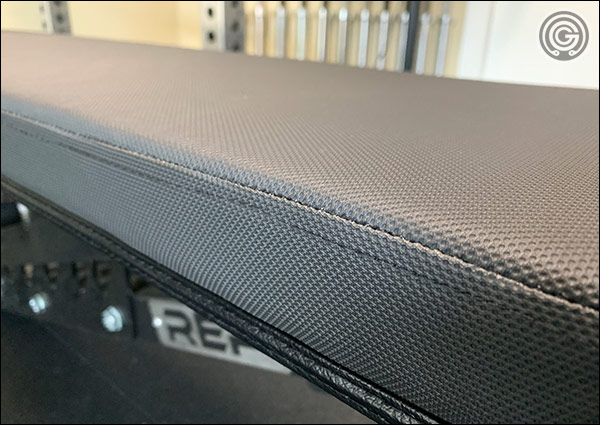 The 5200 has a very long total pad length; about 55″ when flat with only a 1.8″ gap between the seat and the back pad. This is nice for the simple reason that a long bench is way better than having a bench that's too short. It's also more than nice in the sense that the back pad will support even the tallest lifter's head when the  AB-5200 is in any of the incline positions. There will be no heads hanging over the back pad during seated overhead presses.
The width of the pads is 12″, which is ideal in my professional opinion. It's a great width for any and all of the upright positions, and it's more than adequate for working with the bench in a flat position.  The seat tapers down from 12″ over it's 11¾" length,  but considering that the back pad alone is 42″, there is still plenty of 12″ wide pad for utility work (should anyone find themselves doing said work on their AB-5200.)*
* I still suggest owning a dedicated flat bench in addition to an adjustable bench; preferably something with a 14″+ wide pad.
---
Rep AB-5200 Adjustable Bench Review – Mobility
The AB-5200 weighs in at about 125-lbs. Pretty damn heavy. Too heavy to not have wheels and a handle. Thankfully, it does. Better yet, it has the best handle I've ever seen!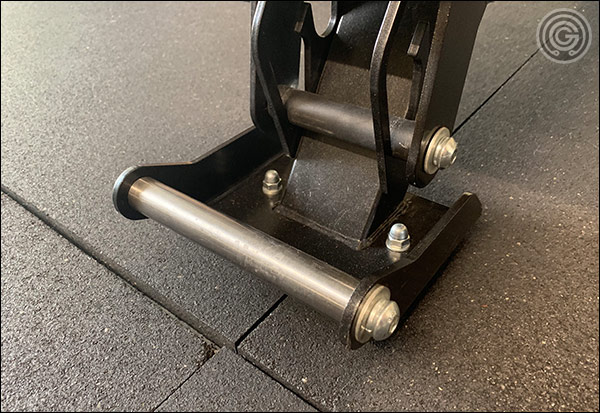 The Rep AB-5200 has a stainless steel, horizontal handle placed low and pretty far forward on the base of the front foot. It couldn't be easier to reach, and the horizontal position could not be more ergonomic. You will never look at a bench handle the same after picking up the 5200. It's just so much easier to pick up than any other bench I've ever owned, even lighter benches like the FB-5000, and especially heavier benches like the AB-5000. The horizontal handle is probably going to become a thing on future benches,  and I have no idea why this wasn't thought of sooner.
Finally, and I cannot confirm this personally, but I'm told the addition of the optional spotter platform does not prevent the bench from being mobile. That is to say, it's not supposed to interfere with wheel function. If you can confirm this, please leave a comment. Thanks!
---
AB-5200 Adjustable Bench Review – Pros & Cons
Pros
The frame is built with 7-gauge and 11-gauge steel.  The entire frame is strong and it's indestructible.
The spine of the AB-5200 is intense; extremely wide for better pad support.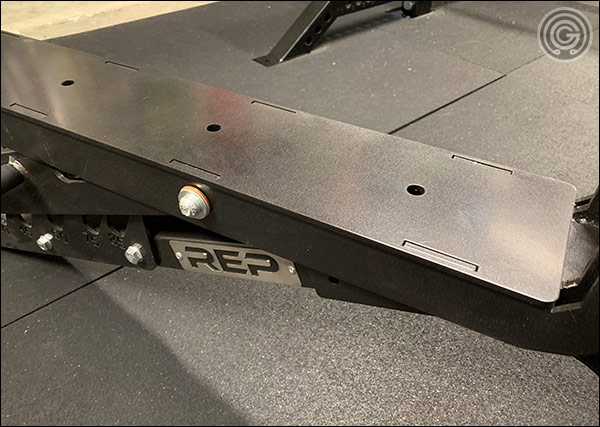 The dimensions are all in a good place. Good height, great length, small gap, etc.
Back pad settings are in 15º intervals from 0º to 75º, and the less useful 90º is replaced with the more useful 85º. These are great pad angles; very well thought out.
The above-mentioned angles are all laser-etched into the ladder.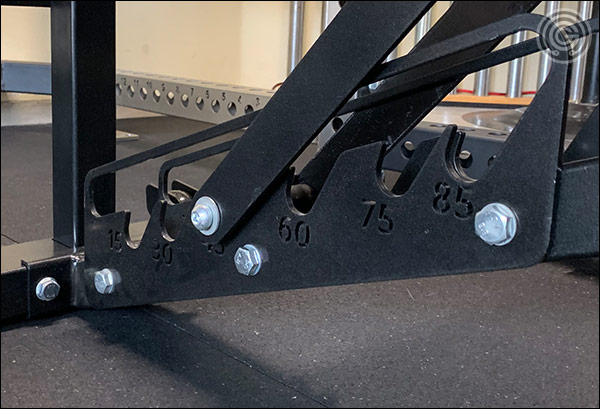 The pads are supportive yet comfortable, and the grippy vinyl is a nice touch.
The horizontal handle is an excellent design innovation as it makes picking the AB-5200 up extremely effortless.
The cages around the ladders are ingenious. Such a simple feature to add to the bench and it makes adjustments so much quicker, not to mention granting the ability to store a ladder bench upright when not in use. This feature alone puts the AB-5200 miles ahead of the competition's ladder benches, to say nothing of all the other positives.
Urethane-coated handles on the back pad adjustment assembly make adjustments a lot easier. Not having to lower the pad by the spine means no risk of getting pinched.
There is an optional spotter deck for those interested in such an accessory.  The spotter deck does not interfere with the wheels.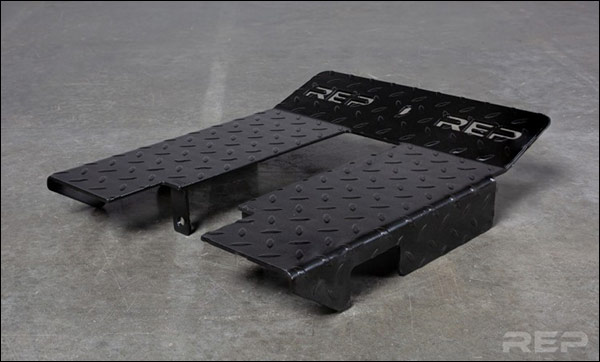 Currently, there are three colors to choose from, and there will no doubt be more added in the future.
Rep shipping is fast and assembly of the AB-5200 shouldn't take more than 20 minutes.
As with all of Rep's products these days, the price is just insane. Rep Fitness has some of the most competitive bench and power rack prices in the industry. Such a high-quality product line for such low prices is just unheard of.
Cons
This is a very high-value piece of equipment, but it still requires a very large investment. I have absolutely no issue with the $449 price tag for a bench of this quality and with all these innovations, but it may still be out of many people's budget.
Personal con: I am a big dude with an exceptionally beautiful but still rather large booty, and if that seat was even 1″ longer I'd be as happy as a pig in Titan. This only matters to me in the 85º position btw, as the seat ends up very close to the pad in this particular position, making it feel just a tad too short.
---
Rep AB-5200 Adjustable Bench vs AB-5000
I have a review of the AB-5000 Zero Gap Bench that you may want to take a look at if you are also considering that bench for your gym. You can read that here.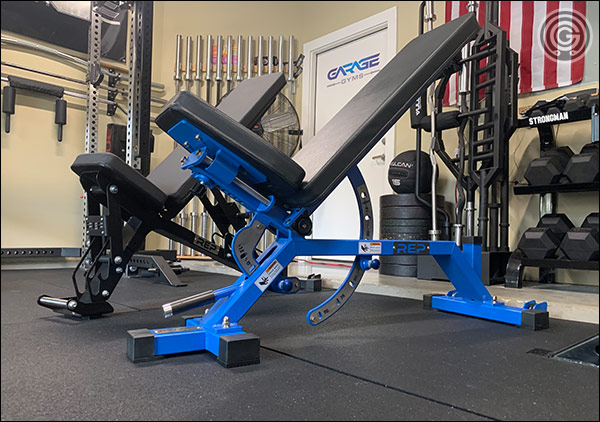 AB-5000 Intro
If you have space for only one bench in your gym, the Rep AB-5000 is an amazing product. It's the only adjustable bench on the market that has a sliding seat that eliminates the large gap that would normally be created when the bench is set to flat. You know, that hated gap your butt sinks into when you try to bench press on an adjustable bench.
View this post on Instagram
Set your AB-5000 to any incline setting, any decline setting, or completely flat, and the seat can be adjusted to completely remove any and all gap. It is one heck of a design innovation that makes it possible to finally own a single bench for every lift.
The AB-5000 is not only versatile, it's also extremely over-built and under-priced. I mean It's a commercial-quality bench that sells for only $499! The optional leg attachment that makes decline settings worthwhile is an extra $90 but we're still talking about a commercial, heavy-duty, 3-way bench for under $600. I think you'd be hard-pressed to find someone who owns the AB-5000 who also didn't believe that it was the very best bench for a single-bench gym.
But what if your space doesn't restrict you to just one bench? Then what of the AB-5000?
Well, if you're like me and you want both an adjustable bench and a flat bench with a one of the 14″+ wide pads (like the Rep Wide Pad or the Thompson Fat Pad) then it's the Rep AB-5200 you should be looking at.
AB-5000 vs AB-5200
I've had a flat bench with a wide pad for years now, and I've had the Rep AB-5000 since its release late last year. I've loved it, truly, but since I don't use the AB-5000 as a utility bench I don't really care about the Zero Gap feature. That's why when I first received the AB-5200 and assembled it, I knew immediately my AB-5000's days were numbered. I knew the new AB-5200 was going to replace that 5000 when it was all said and done.
Why though? The AB-5000 is a more versatile bench with the ability to be adjusted to twice as many positions. It's bigger, it cost more, and decline isn't even an option with the 5200.
There are a number of reasons I like the AB-5200 more than the AB-5000 for my gym, and I will address them all right now!
Ease of Use
I am always going to want my Fat Pad,  which means I am not going to utilize an adjustable bench for anything that requires the Zero Gap feature. Now normally it wouldn't matter how much of a gap there is but in the case of the Rep AB-5000, adjusting the bench is actually a bit cumbersome and time-consuming, as any adjustment to the back pad requires adjusting the seat both before and after adjusting said pad.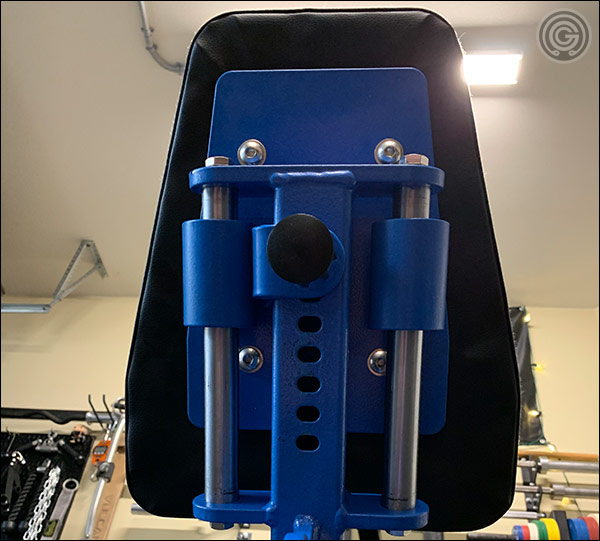 It's one thing to have to make all these adjustments if it's what allows you to have access to both incline and flat settings (useful flat settings) on a single bench. It's a trade-off! It's quite another thing though to have two benches and still have to make all those adjustments.
The AB-5200 adjusts so quickly! Literally lift the pad and let it settle at the angle and height you want. Same for the seat. You only need one hand in either case as the cage around the ladder prevents the locking mechanism from going anywhere.  It really couldn't be easier to adjust a bench than it is with the AB-5200. It's just so damn nice how quick it is!
It should be mentioned that the Rep AB-5000 was launched alongside the AB-5100, which is the non-Zero Gap version of the AB-5000.  Had I chosen the AB-5100 instead of the AB-5000 I would not have a sliding seat to screw with, but I'd still have the same versatile flat/ incline/decline, commercial-grade bench. Again it's a trade-off; a single bench for all lifts in exchange for having extra adjustments to make.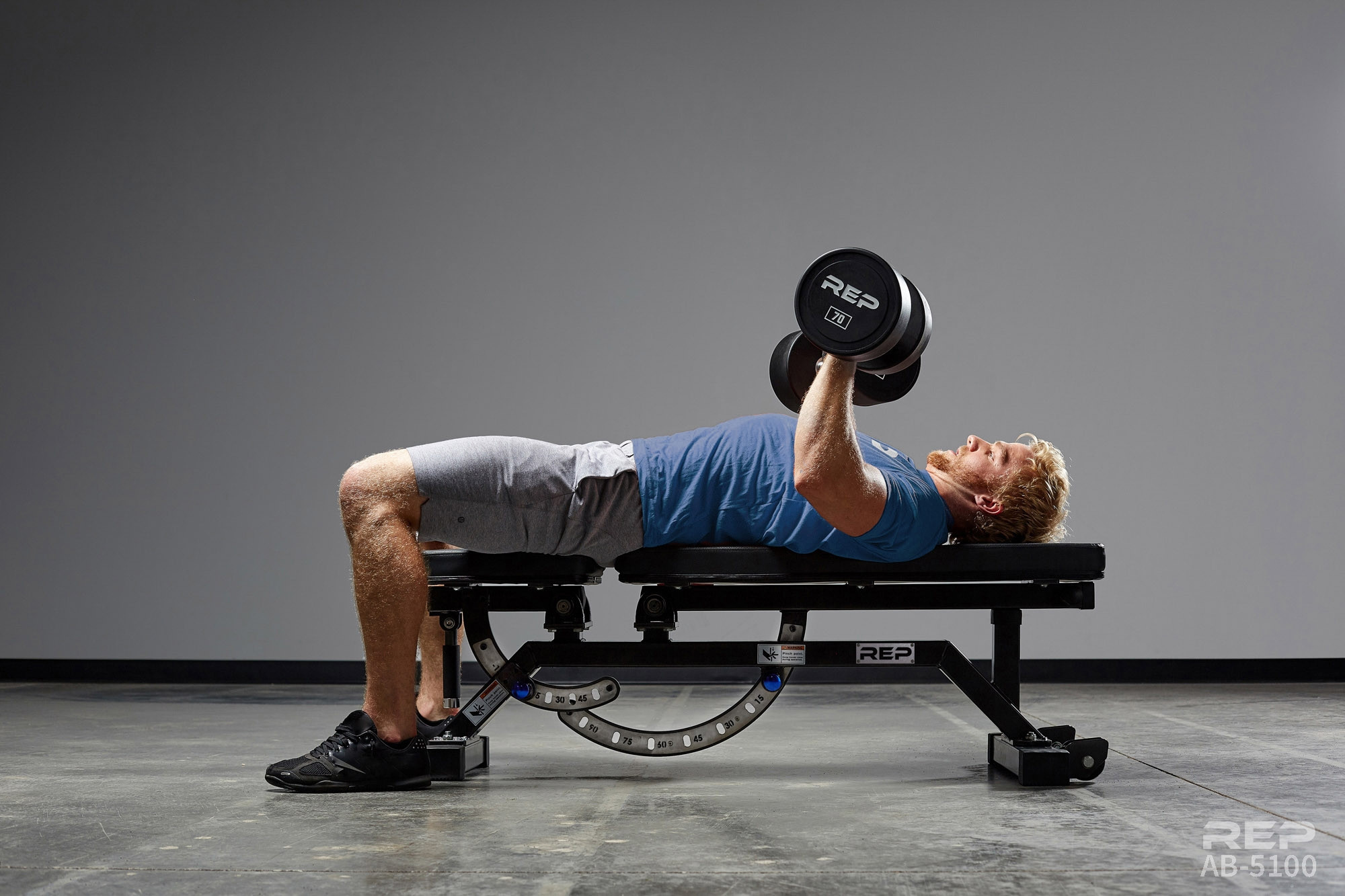 Seat Difference
The seat of the AB-5000 is pretty large; large enough, in fact, that I feel like I am straddling it rather than sitting in it, and I'm a big dude. Now, I realize the seat of this bench needed to be a little bigger than usual, and I've learned how to sit in it so that I'm not uncomfortable (it was only really ever an issue in the 30º & 45º positions) but I was still instantly appreciative of the AB-5200's more compact seat. The AB-5200's seat is not nearly as long or wide so it does not push into the inner thighs like the 5000's seat tends to.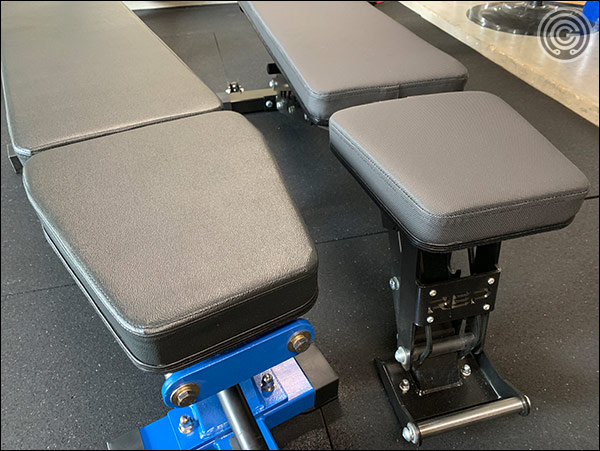 Ironically, I sometimes wonder if the seat size of the AB-5200 isn't too small for the 85º pad position, Eh, I guess that has more to do with my big ass than the seat itself.
Minor Perks
The handle of the AB-5200 is so much easier to grab being that it's a horizontal handle, and not the typical vertical-style handle.  I love it, and I hope this becomes the new way to install a handle on a bench as it makes lifting the bench onto its wheels infinitely easier. You'll see.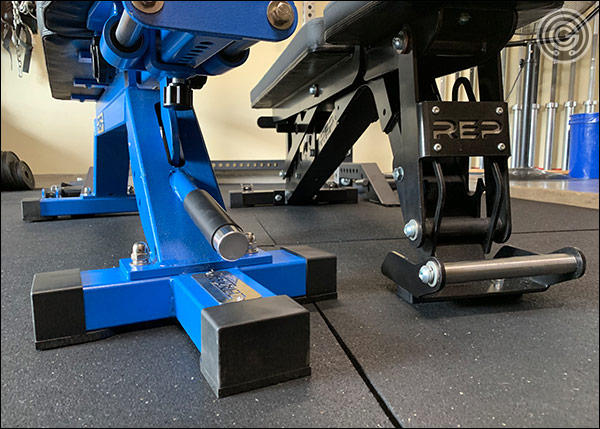 The vinyl used for the AB-5200 is the same grippy vinyl found on Rep's FB-5000 and -4000 bench pads, and I think this is a very nice touch.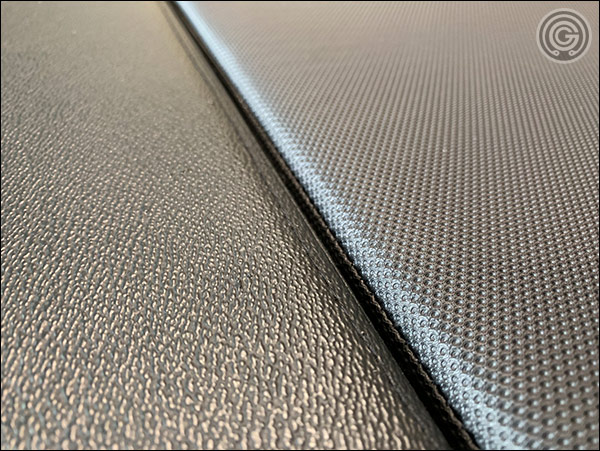 There is nothing wrong with the vinyl used on the AB-5000; it's a premium, high-quality vinyl with excellent, professional stitching; I just happen to prefer the grippy vinyl.
Update: Word is that the next batch of AB-5000's will have the grippy vinyl which, of course, eliminates this particular difference for any new buyers. 
AB-5000 vs AB-5200 Summary
Both of these benches are outstanding in their own right.  I can think of no other adjustable bench that I'd recommend over these two unless you were just determined to spend a boat load of money. The AB-5000 is the absolute best option for those who have the space for a single bench but who hate flat benching with a pad gap, and the AB-5200 should be the go-to for everyone else.
You can spend less on your adjustable bench. You can definitely spend less. Even Rep has a handful of other adjustable bench options; all of which cost less than these two. But there are no others in this price range built to the same [commercial] standard with such a unique array of design innovations (sliding seat, caged ladder, etc). And again, I cannot emphasize enough how unbelievably low the prices are on these two heavy-duty benches.  You will not do better for the same money, and you will certainly do no better for less money.
My recommendation, for those who want it, is to make room for two benches; a utility bench with either the Rep Wide Pad or Thompson Fat Pad, and a Rep AB-5200. Both of them can be stored upright to save space when not in use; meaning when not being used, they'll take up only about 2½ ft² of floor space each.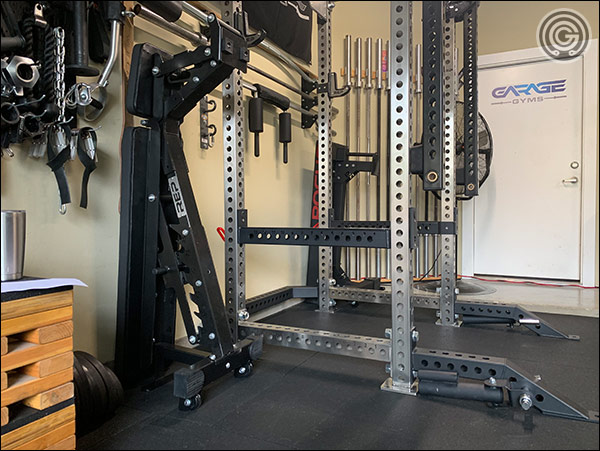 ---
Rep AB-5200 Review Summary
I've come to the conclusion that Rep Fitness is not going to be content until they've got you thinking the Rep name no matter what kind of bench you want and what kind of budget you are working with. With no less than 10 benches being offered at the time of this writing, and with at least half of them being fairly new additions (if not brand new additions), is there any other company with such a complete collection of high-quality, well-designed adjustable and flat benches out there? I don't think so!
Well forget all their other benches. Right now we're just concerned with the AB-5200, yeah? The good news, for any of you considering this bench, is that I can say with 100% certainty that it is my favorite Rep bench by far (and I have reviewed no less than five Rep benches.) I also like it more than any other adjustable bench that I have owned or reviewed.  I like the Rep AB-5200 more than the  AB-5000, the AB-3000, my old commercial Legend bench, the Vulcan Prime, and even the Precor Super Bench. I also think the caged ladder alone makes the AB-5200 a better buy than the Rogue Adjustable Bench 2.0 (to say nothing of that $100 price difference.)
As I touched on in the AB-5200 / AB-5000 comparison section, the AB-5200 will replace my AB-5000. I also don't see the AB-5200 going anywhere anytime soon, as I know of no other adjustable benches on the market I could review that I'd end up keeping over the AB-5200. Unless this bench comes out in stainless steel, I think it's a keeper forever.
I am ridiculously happy with the Rep Fitness AB-5200, and I highly recommend it to anyone who does not need the dual-function of the Rep Fitness AB-5000.