This is a review for the Force USA MyRack Modular Power Rack. This comprehensive and rather lengthy review will cover not only the centerpiece of the MyRack system; the power rack itself; but also the complete line of accessories and attachments currently available for it. Fear not, for a table of contents can be found following the intro.
---
Introduction
The Force USA MyRack is a versatile, fully customizable, mid-ranged power rack designed for the home and garage gym market. It's a strong power rack; one capable of handling a lot of weight; and it comes standard with a number of built-in extras such as expanded (and numbered) Westside hole spacing, double on-board bar storage, and even numbered band peg holes at the base of the rack. It also has expansion options galore – more than enough to turn your MyRack power rack into a very, very complete home gym.
Better yet, the cost to build a MyRack starts at only $499. This is a very enticing price for a strong, flat-footed, fully expandable power rack; especially for someone on a budget. One can conceivably build out a very impressive rack with lat tower and multiple accessories for less than the price of a base model, commercial-grade rack – and you can still be confident that your less-costly MyRack can handle whatever weight you throw at it.
The Force USA MyRack isn't a commercial power rack. It doesn't replace a Legend Fitness Varsity or a Rogue Monster Lite for a high-traffic powerlifting gym, but because of the lower base price and endless expansion possibilities it does replace just about all other light- and medium-duty racks on the market when it comes to the average home gym.
There is also one very big advantage to ordering a MyRack that is pretty much exclusive to Force USA, and that is the way the rack is ordered.
Personalization
What makes the MyRack different is that it comes bare bones. The base rack includes no hooks, no safety system, and no pull-up bar. This is beneficial to us because there are no components that you could potentially upgrade or simply not use embedded into the price. You aren't automatically paying for basic J-cups, pin-and-pipe safeties, and a straight pull-up bar like you do with pretty much any other manufacturer's power rack.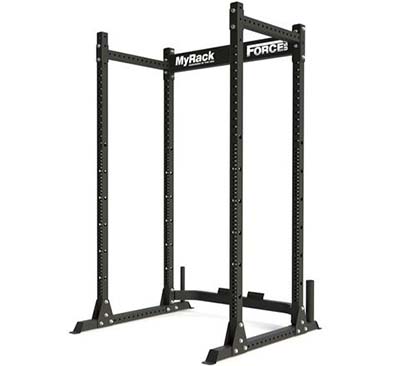 With the MyRack, if you know you'll want a multi-grip pull-up bar, deluxe J-cups, and safety straps, well you just add those components as you build out your rack. You literally pay only for what you want on the rack, and nothing more. No wasted parts will end up in the corner of your gym to collect dust.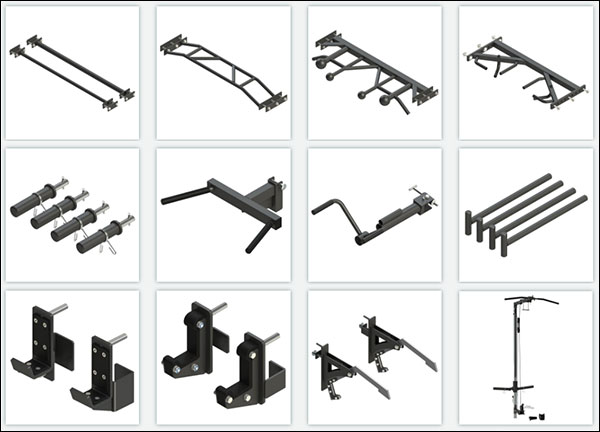 So if you are wanting to build out a home or garage gym and you're currently in the market for a power rack, but you don't plan on spending close to a grand for a power rack before a single accessory or attachment has been added, this review is for you.
Sure the MyRack may not be the rack that you end up; there are a ton of options out there after all; but I think this rack is strong enough, versatile enough, and priced well enough to be seriously considered by the majority of new and soon-to-be home gym owners.
---
MyRack Review Table of Contents
---
The MyRack Modular Power Rack Review
Before we talk about any of the accessories and attachments, you'll probably want to know if the base rack itself is worth a damn; so let's talk about that first!
MyRack Technical Specifications
Dimensions: 47″ wide x 55″ deep x 87″ high
Inside depth of 29″ (space between front/rear uprights)
Laser-cut steel construction
2.4″-square, 12-gauge steel uprights and crossmembers
0-gauge steel base/backer plates
Base weight of 176-lbs
5/8″ accessory holes with quality hardware
Expanded Westside hole spacing
Flat footed design with optional anchor holes (not required)
Limited lifetime warranty
MyRack Review – Construction
The Force USA MyRack is a 12-gauge rack rather than the industry-standard of 11-gauge. Generally I don't recommend going below 11-gauge because the overwhelming majority of 12- and 14-gauge power racks use 2″x2″ steel tubing and ridiculously cheap hardware (a combination that results in maximum capacities that are almost comical, if not dangerous), but I have no issues with the 12-gauge MyRack, and I'll tell you why:
Force USA did three things that makes the 12-gauge uprights acceptable to me. First, they increased the the steel to 2.4″x2.4″ which adds significantly more strength to those uprights. Second, they went with high-quality hardware instead of using those cheap, light-duty bolts, nuts and washers you find on economy racks. Finally, the rack has beefy 0-gauge base and backer plates at all connection points (see image below).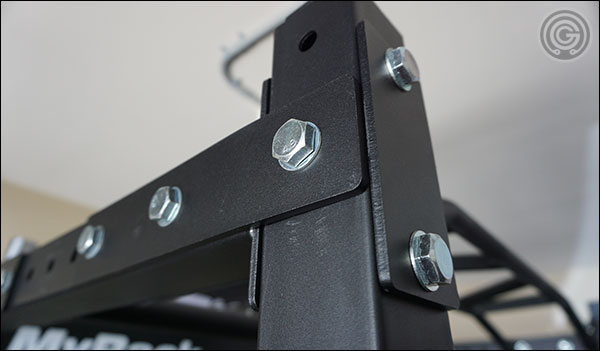 So despite being a 12-gauge unit, MyRack has a maximum static weight capacity of 2000 pounds; not 300-600 pounds. There is also no noteworthy maximum capacity on items like the pull-up bars and J-hooks. I willingly and confidently overlook the use of 12-gauge steel rather than 11-gauge on this particular power rack.
MyRack Review – Features
The MyRack is a flat-footed power rack. This is a very popular rack design because it offers lots of stability without the need to drill into the foundation or build a platform for anchoring purposes. It has optional anchoring holes for those who would like to work out in front of the unit, and you definitely should anchor if you intend to use spotting arms outside of the rack, but anchoring is definitely not necessary with flat-footers.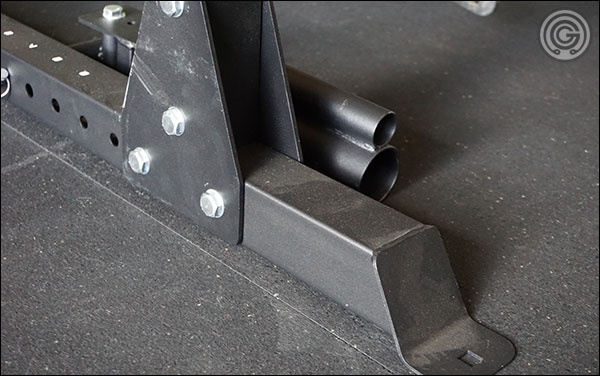 This power rack also has an expanded Westside hole section. By expanded I mean the 1″ spacing starts lower on the rack and continues higher up the rack. Matter of fact, there are literally twice as many holes in the Westside section of the MyRack than what's found on a Rogue rack (44 holes versus 22.) Additionally these holes are numbered on all uprights. So regardless of what kind of safety system and/or J-cups you use for benching, you'll get your accessories into the proper zone for your bench height and your build.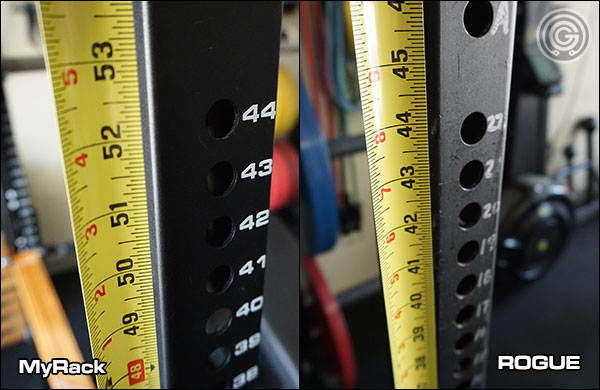 The rear stabilizer of the MyRack is designed to be out of the way of your feet when you lift off for the squat, and out of the way of your bench when pressing. Some rack manufactures do not consider the impact of poor rear stabilizer positioning, so we end up either having to remove that stabilizer (which means the rack likely needs to be anchored), or buying a new rack. The MyRack rear stabilizer also has foot plates for your feet for performing cable rows (assuming you choose to purchase the lat tower.)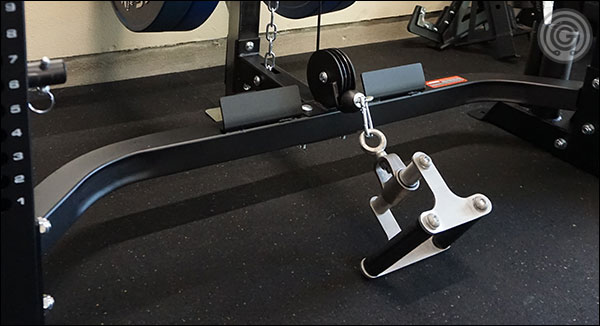 Speaking of numbered holes, the MyRack also numbered the band peg holes at the base of the rack; a nice touch.
MyRack Power Rack Pros: strong, durable, affordable, and loaded with bonus features. The max capacity is high, accessory variety is huge, Westside spacing is improved, and assembly is straight-forward. The MyRack base rack is a good value, and only the absolute strongest of lifters should look to something more heavy-duty (and mostly because of the accessories available, not the rack itself.)
MyRack Power Rack Cons: There is room for about 3 or 4 more holes at the top of the uprights; those holes should be there (you'll see why in the monolift section). The MyRack could stand to be taller by at least three inches. Having made this an 11-gauge rack would have made it one of the best options around; allowing for athletes of all levels of strength and skill to look to this product. The 12-gauge steel and light-duty attachments keeps the price down, but eliminates a portion of the possible customer base (imho).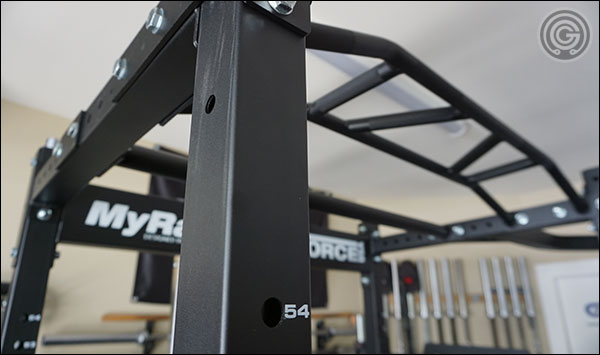 MyRack Power Rack Verdict: It's a very high-value power rack for novice and intermediate lifters. The lat tower (which I'll discuss later) makes this rack even more appealing. I think this product should and would appeal to a large audience, but whether or not it's a good match depends on the accessories you want, and how you feel about the quality/performance of those accessories. I think it's a good product at a great price.
---
J-Hook & Safety Options
Force USA currently offers three J-hook options for the MyRack, and three safety system options. You generally only need one of each, but they can be stacked for super sets and such (cups inside and outside the rack, for instance.) Let's look at these options.
Standard J-Hooks
The Standard J-Hooks are exactly what they sounds like; a pair of basic J-cups. They drop in like just about every other J-cup, are lined with a protective nylon (not UHMW), and have a static load capacity of over 1700-lbs.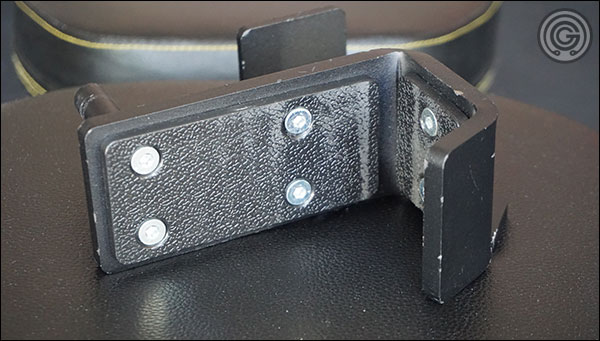 These work just fine, and for only $49 they are the cheapest option. I don't know how long the nylon will last compared to the UHMW used on most manufacturer's cups and safeties, and I'd really like to see those screws below the surface of the protective nylon, but for $49 I think they're acceptable.
If you're trying to keep spending down, this option will get he job done.
Deluxe J-Hooks
Force USA's Deluxe J-Hooks are a slightly stronger alternative to their Standard J-Hooks. While they are clearly designed to look like heavy-duty, sandwich-style J-cups, they are not actually sandwich-style J-cups. Rather than having a block of UHMW sandwiched between two sheets of heavy-gauge steel, these are just a larger, basic J-cup with hard plastic lining between the cup and the bar.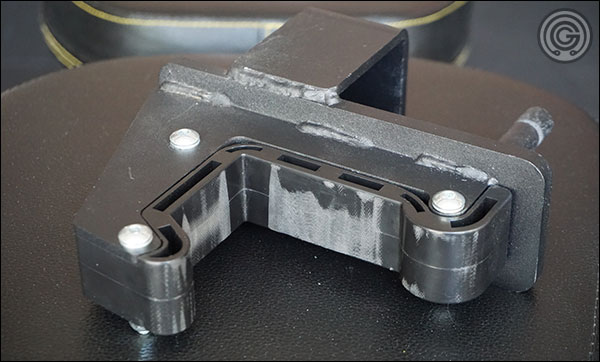 As with the Standard cups, the lack of UHMW is sort of disappointing. UHMW is perfect for this application and I don't know why it wasn't used. In any case, hopefully these cups will go the distance despite the difference in materials (so far so good).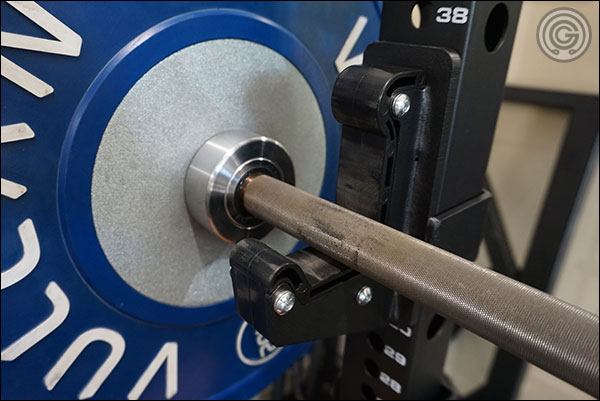 I think the Deluxe J-Hooks are a better option than the Standards. Normally I'd recommend basic J-Cups, but between the nylon, the exposed hardware, and a rather excessive lip, the standard-style MyRack hooks leave a little to be desired. I recommend spending that extra $30 for the Deluxe Hooks. You'll get an extra 900-lbs max static capacity out of it too. $79
Monolift Attachment
The MyRack Monolift Attachment has a pretty standard design. It functions in the same way as the Rogue or Edge mono attachments – it has about the same swing distance, the same basic opening for the bar, and it attaches to the rack just like J-cups or spotter arms via the single accessory pin.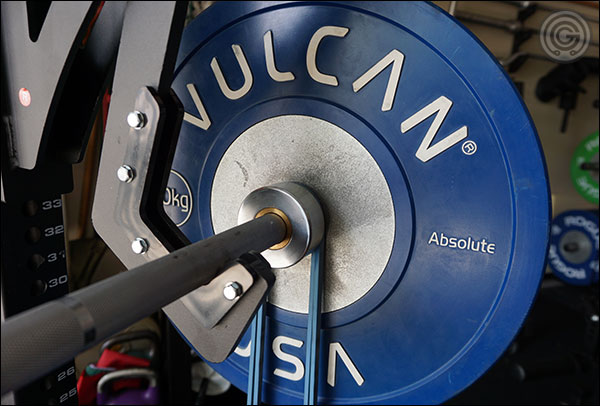 Due to the lower height of the MyRack power rack, I was personally unable to put the mono attachment through the ringer. I was not able to set the monolift attachment high enough for squats at my height; even at the highest possible setting my lift off was about 6-8″. I wasn't keen on having to dip down and forward at the end of a heavy set to try and re-rack the bar, so I just avoided squats with this attachment altogether.
Now I did bench with the MyRack Monolift a number of times and it performed as expected (it's an invaluable tool for banded benches) but for me a $199 swinging J-cup that I can only use for the bench press is not a high-value product. You are probably shorter than I am and you will probably be able to use it for squats, so probably its value would be higher for you.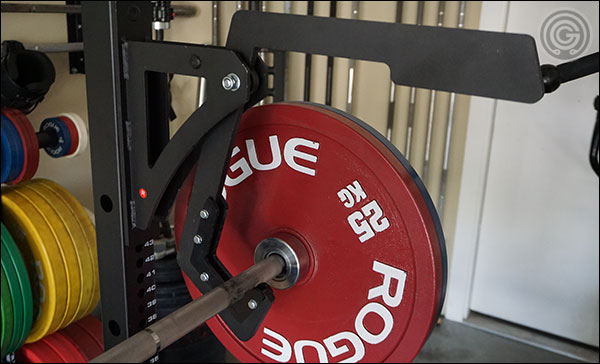 Adjustment issues aside, the monolift is not a very versatile attachment, making it more of a novelty item. Unless you're strong enough to be training under Louie Simmons I truly doubt that you need them anyway. If budget is even remotely important to you, stick with J-cups.
Side note – contrary to the picture on the Force USA website, this attachment has only one single pin, not a double pin system.
Box Tube Safety System
I actually did not get the opportunity to test this attachment, though I'm willing to bet that it would have been my preferred safety option of the three. I am a fan of drop-in style safeties because they are strong, easy to use, and they protect the entire depth of the rack, not just a section.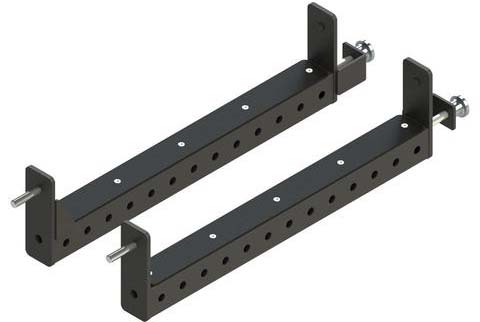 Drop-in tube safeties are probably the most confidence-inspiring safety option available for any power rack, so even despite having not tested this product I still recommend it over the following two safety options. $105 for the pair.
Safety Spotter Arms
Spotter arms
are for squat stands and half racks; they are of limited usefulness when used
inside
 of a power rack because they offer less maximum capacity while also only covering a section of the rack rather than the entire inside depth. Having said that, you can use spotter arms for lifts performed
outside
 (in front of) the rack, but you'll want to anchor your MyRack to the foundation if you intend to do that.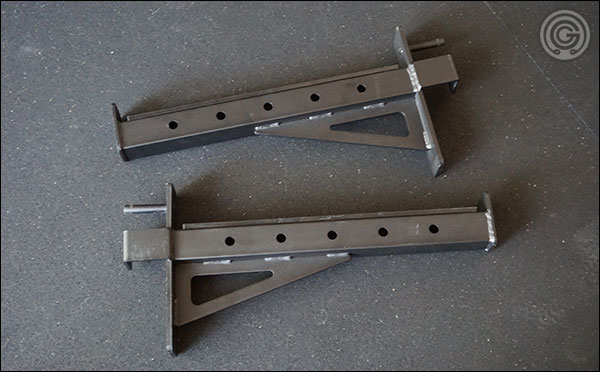 These attach to the rack in the same manner as a pair of J-cups. They are 19½" long, lined with nylon, and sell for $89 for the pair. I have no problem with the spotter arms, but again I wouldn't buy them for my only safety option in an actual power rack.
Safety Slings / Straps
Straps are an interesting option. If ever you want the bar to roll to the front of the rack when a rep is failed, or if you discover that your ideal safety location to be in-between two pairs of holes on the uprights, straps are the way to go. Each end of a safety strap can be placed in a different location to create a slope or angle, and because of the slack in straps fine-tuning of placement is easier than with fixed safety systems (like spotter arms or drop-ins.)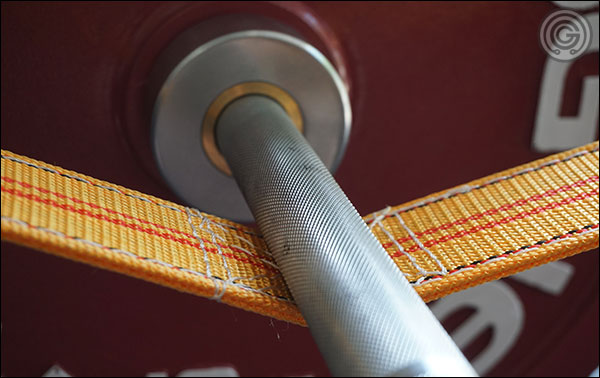 Safety straps are also affordable. They are relatively easy to adjust, and the color of Force USA's straps is actually pretty attractive.
The only "issue" that I've had with mine has to do with the detent pins that pass through the ends of the straps; they don't exactly lock into place. The spring-loaded ball bearings in the pins just aren't quite bulky enough to prevent accidental pushing of the pin back through the assembly, so they can be accidentally nudged out of position, or even rattled out of position if you are performing any lifts that involve a 'touch and go'.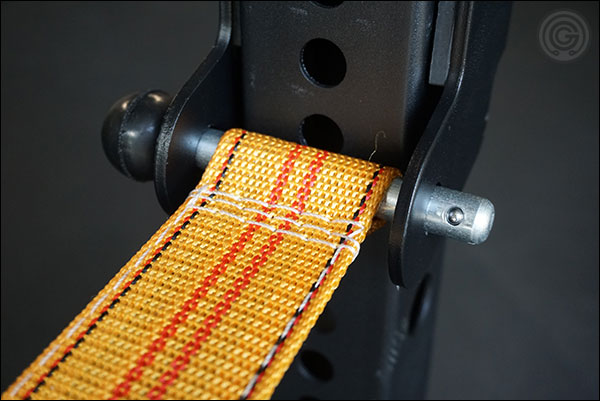 I don't mind recommending these, but I do suggest that you install the pins so that you push the pin through from inside the rack to out so that any bumping while in the rack just pushes them further into position; rather than potentially pushing them out of position. $79/pair.
Hook and Safety Verdict: I recommend the Deluxe J-Hooks and Box Tube Safeties. I don't think any of these necessarily need to be avoided, but I believe the $199 Monolift price tag is better spent somewhere else. Hell it's 80% of the price of a Lat Pulldown. Get that instead!
---
Pull-Up / Chin-Up Options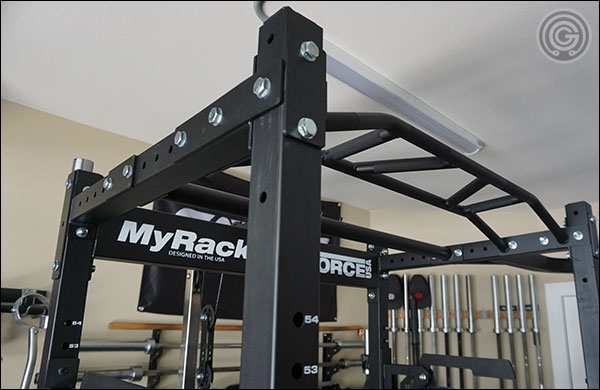 As you're building out your MyRack Power Rack you're gonna want to select a chin-up bar. Currently there are four options available that range in price from $70-$150, starting with a basic straight pull-up bar and getting progressively more advanced, versatile, and of course more expensive.
As with the rest of this customizable rack, the beauty of the MyRack is that you only pay for what you want and intend to use. If you don't want the straight pull-up bar on your MyRack, then don't pay for it. With most other racks and stands you will pay for a straight pull-up bar, and if you want to swap that out for a multi-grip bar or some other attachment, you'll pay for that too. Doesn't matter that your replaced straight bar becomes just a piece of metal in the corner of your gym, you still had to buy it.
Not with the MyRack. You select the attachment you want when you order, and pay only for that attachment. The chin-up attachments are as follows:
Option #1 – MyRack Monkey Bars
The first chin-up bar option is a pair of straight pull-up bars; one standard diameter, one fat grip. This is the least expensive option at $70, and truth be told it's a completely legit option if all you care about is doing pull-ups and chin-ups, not dicking around with all kinds of hand positions.

Going the Monkey Bar route rather than an exotic attachment is not a bad thing, especially considering the low price. Keep in mind that you get two bars of different diameters for the price not just one bar. It's not fancy, but it's all you need.
Option #2 – MyRack Classic Grip Chin-Up Bar
The next chin-up bar option for the MyRack is the Classic Grip Attachment. This is basically your standard multi-grip pull-up bar. It offers standard overhand pull-ups, wide angled pull-ups, underhand chin-ups, and two different palm-in chin-up grips; one straight, one angled.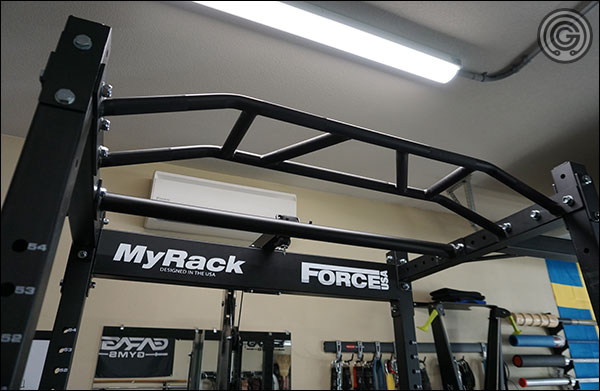 This is a great option both for its versatility and it's low $100 price tag. This is the only chin-up attachment that is knurled, and knurling is definitely a nice touch. My recommendation is to go with this Classic Grip Bar if you're trying to load up the gym while keeping costs down or to go with the next Globe Grip attachment if you're fine with dropping an extra $50.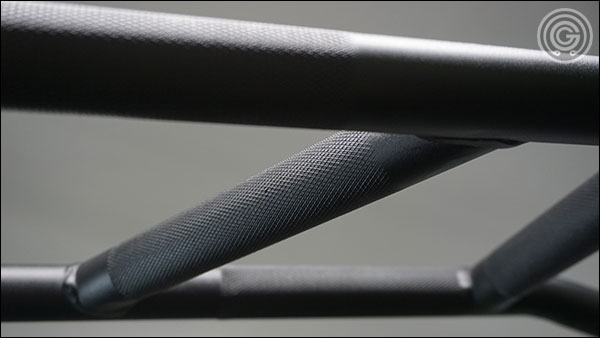 Option #3 – MyRack Globe Grip Chin-Up Bar
The third chin-up bar attachment for the MyRack is the Globe Grip Chin-Up Bar. The Globe Grip offers up wide pull-ups, neutral pull-ups, narrow- and wide-grip chin-ups, and of course the two different sizes of globes for the most challenging pull-ups of all.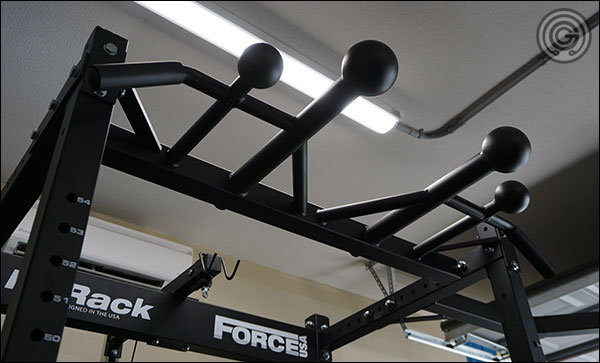 This is an extremely versatile attachment that allows you to progress from simple chin-ups up to wide pulls, and then eventually to the very humbling globe pulls (that require one hell of a grip to pull off). Even being able to bust out sets of a dozen pull-ups on a standard pull-up bar doesn't mean much when you grab at those big globes. Incredible attachment; $150.
Option #4 – MyRack Hammer Grip Chin-Up Bar
MyRack pull-up bar option #4 is the Hammer Grip Bar. This attachment is reminiscent of the type of handles you'd see on top of a functional trainer. It offers a wide pull-up grip, and two slightly different variations of the chin-up.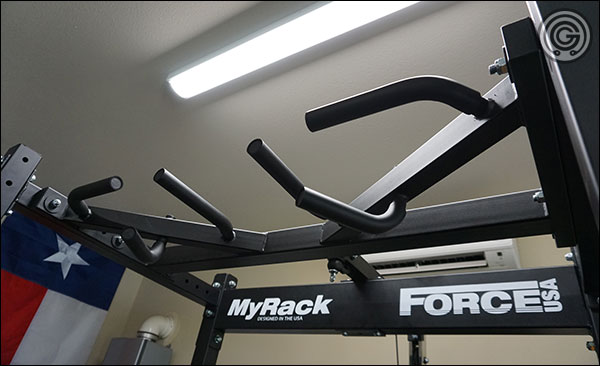 The Hammer Grip Bar attachment is $150, and while not my favorite of the bunch (I do not personally care for the padded grips), it is probably the best option if you favor the chin-ups over pull-ups. This attachment is also a no-go if you're over say 6'4″. You'll probably bump your head on the low-hanging grips.
Chin-up Attachments Verdict: There is nothing wrong with any of these, and all the prices are reasonable. If you want more than one of them, swapping them out takes about fifteen minutes. Probably more work than it's worth but that's for you to decide. End of the day, there's still nothing wrong with having a straight pull-up bar. 
---
Cable Crossover Attachment
The Cable Crossover attachment for the MyRack Power Rack is simply incredible. Almost nobody offers a cable crossover system that isn't its own expensive, space-stealing, stand-alone machine. Having access to a functional, durable, and relatively affordable crossover system in a garage gym is simply one of the coolest things about the Force USA MyRack.
The Cable Crossover attaches to the front corners of your MyRack. It is attached using two angled, steel tubes that put each side of the Crossover a reasonable distance from the rack so no part of the attachment is in the way of your barbell path. Each pulley is angled slightly inward; much like a functional trainer; making the system great for pec flys and reverse flys.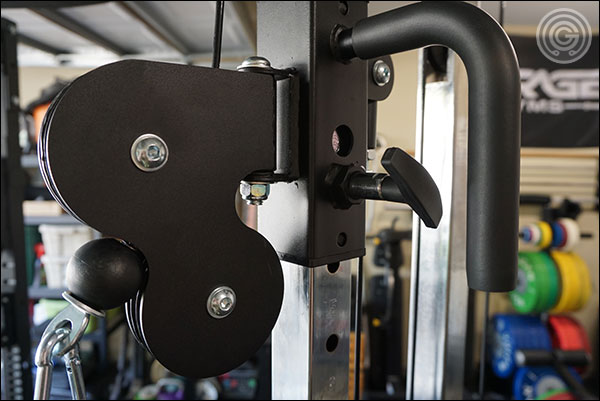 The crossover attachment is stable, strong, holds sufficient weight, and if I'm being honest is just damn impressive for a non-commercial product. There are 28, numbered adjustment points for the cable height ranging from basically the floor, to high enough for lat pulldowns; there is a folding steel foot plate at the base for performing cable row variations; and there is even an optional seat for doing lat pulldowns.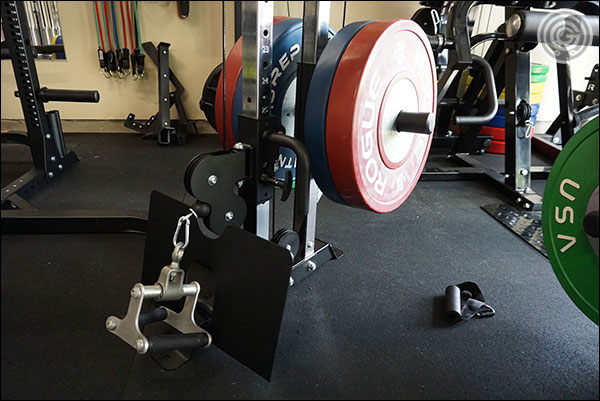 Each half of the Cable Crossover is $399, so it's not exactly cheap to have the whole setup. Personally I don't think you should do just one side if you want a pulley system; rather if you can't afford both halves of the crossover, go with the rear-mounted lat pulldown attachment instead (I'll discuss that next.)
I believe the MyRack Cable Crossover is a fantastic idea. I think it was executed quite well, and it's an attachment worthy of a 5-star rating. That said, I was not overly impressed with the lat pulldowns seat attachment. I would not rate that accessory very highly or nor would recommend it.
Cable Crossover Pros: strong, stable, and versatile – folding foot plate is convenient. Higher weight capacity than there is room for on loading pins, unit includes multiple attachments and can accept any others. This is one of the only [non-commercial] ways to own a true cable crossover in a garage gym.
Cable Crossover Cons: timely installation, costly, and each side requires a lot of dedicated floor space. The 50 mm plate adapters are not compatible with calibrated discs. The seat attachment is pretty awful.
Cable Crossover Verdict: If you simply must have access to pec/delt flyes and can afford $399 twice, it's a great attachment. Otherwise save some money and space and just go with the Lat Pulldown attachment.
---
Lat Pulldown / Low Row Attachment
The Lat Pulldown/Low Row is the one attachment that most of you will be familiar with, and the one that I think most will want to add to the MyRack. This simple, surprisingly affordable attachment does wonders to round out home/garage gyms by adding a huge variety of new movements. By providing both a high and low cable attachment point, we get access to the lat pulldown variations, high and low rows, tricep, bicep, and shoulder movements, and just about any cable movement that you can imagine.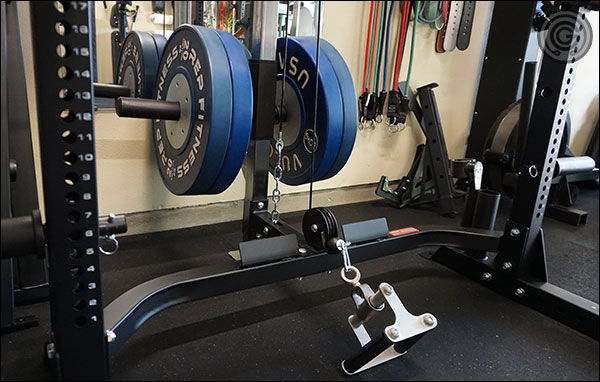 In terms of construction the Force USA MyRack Lat Pulldown is done really well. It's strong, stable, and capable of handling a ton of weight. Just like the Cable Crossover attachment, this attachment is damn solid for a non-commercial piece, and it's a reasonably priced add-on at only $250.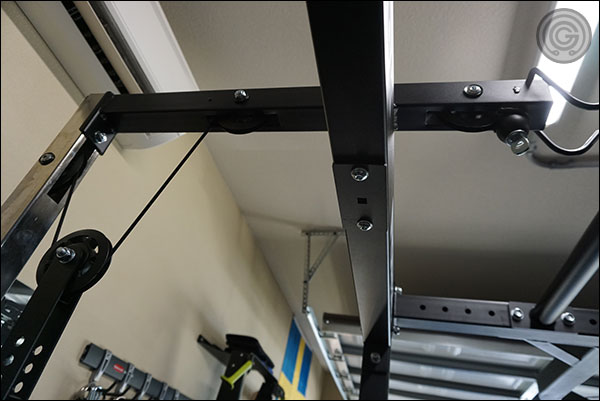 I believe the Lat Pulldown attachment is definitely one worthy of serious consideration when buying a MyRack. I think it's a much better choice for heavy cable work (lats and abs) than the Cable Crossover attachment. It's not as adjustable as the Crossover (with its 28 height settings and all) but the leverages are better and it can handle more weight.
Performing heavy lat pulldowns will require you to own a bench with the proper attachment for getting your knees under (to lock you to the Earth), or you can DIY something. However you do it, you will need to do something because there isn't a built-in solution and you'd be missing out to not be able to utilize this for lat pulls.
Lat Attachment Pros: strong, stable, highly versatile, and completely functional. Unit has a very high weight capacity (880-lb static), low price, includes multiple attachments, and can accept any other cable attachments.
Lat Attachment Cons: timely installation, included attachments are unfortunate, 50 mm plate adapter is not compatible with calibrated discs, requires decent amount of floor space behind the rack to use.
Lat Attachment Verdict: great attachment!. Some minor issues, but overall I highly recommend it.
---
Miscellaneous MyRack Attachments
Dip Station / Dip Handles
Force USA's Dip Attachment is pretty standard. Pick a height, slide the pin through the rack and attachment, then dip away!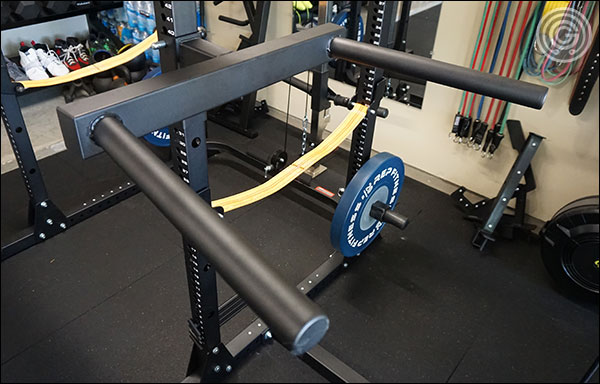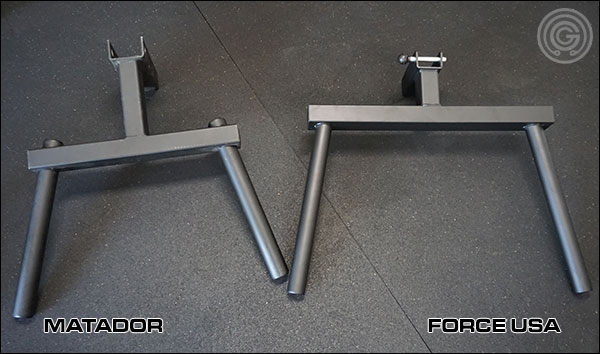 There's not a whole lot to say about this attachment other than the handles are a bit further apart than they are on the other dip stations I've used (like the Matador or the power towers with dip handles). I don't think this is necessarily a bad thing, but if you're a smaller-framed person maybe this extra distance will be awkward? Probably not though. $99
Landmine Attachment
The MyRack Landmine Attachment is another standard accessory. It attaches to any of the numbered band peg holes at the base of the rack, and has a sleeve for both Standard bars and Olympic bars.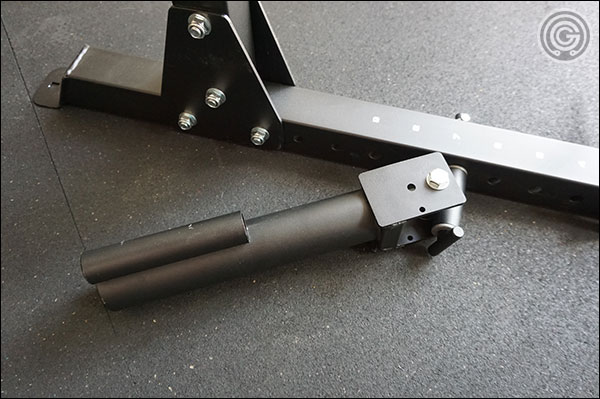 At $69, the price for the single landmine attachment is reasonable. Due to where it installs though (inside the rack rather than at the base of an upright), you may find yourself moving it around to do different landmine exercises. Also, using a pair of attachments may have its limits because you can only move the bar through a very limited space (the opening of your rack.)
If you're only interested in doing the various rows with your landmine it should be perfectly fine. If you're one to utilize double landmines and/or multiple attachments (presses, raises, hack squats, etc), you may want to stick with the classic post landmine or purchase another manufacturer's landmine attachment that will mount to a more convenient location.
Band Pegs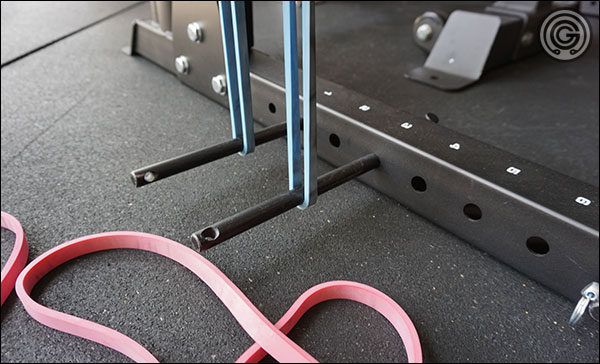 For $19 you can get two pairs of Band Pegs from Force USA. This is a fantastic price, and band pegs are a must for a power rack in my opinion. Add these to your order and put them to use!
Weight Plate Holders
I literally have nothing nice to say about the MyRack Weight Plate Holders. They have no redeeming qualities whatsoever, and I do not recommend them.
MyRack Plate Holders are simple 1″ tubes that have an optional 2″ plastic adapter you can use if you own Olympic plates (which you do.) These holders do not bolt down to the rack, rather they are just pushed through the accessory hole and pinned from the protruding side. They fit loosely and move around a lot, they aren't even very long, and they just feel super, super cheap.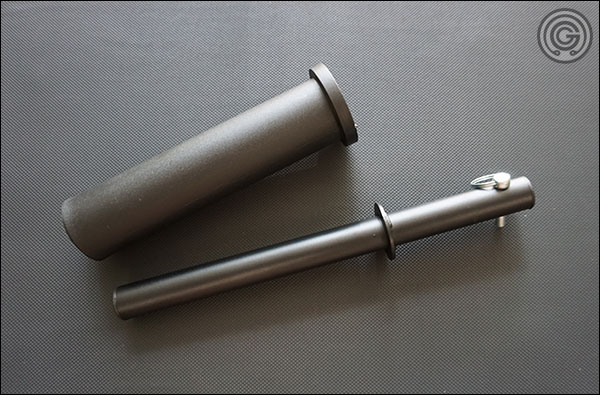 Additionally, the posts are way too thick. The only plates that easily slide on and off of these plate holders are cheap, cast iron plates. Basic bumper plates are an okay fit, more precise comp bumpers and machined iron plates require excessive force to get on and off, and your calibrated equipment will never, ever fit on these posts.
These things are the worst. You can make them work if you own $.75/pound CAP plates or something, but even still there just aren't many good places on the rack to even install them being that this is a standard-sized power rack that you work out inside of. Save your money and buy a weight tree.
Misc Rack Attachments Verdict: Get the band pegs for sure, maybe the dip station. The landmine is fine but don't buy it if you won't use it. Do not buy the plate storage posts – total waste of money. Buy a weight tree or some other storage solution. 
---
General Pros and Cons of the MyRack and Accessories
MyRack Pros
Packaging is extremely well done. The corrugated boxes are quite thick and the boxes are strapped together rather than taped up. I had no damage to any box, and I suspect Force USA almost never has issues with damaged packages.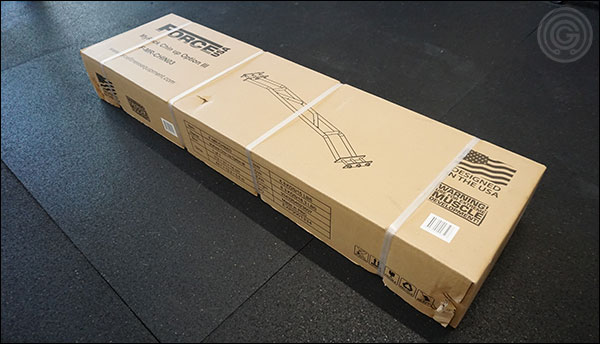 All of the hardware (bolts, washers, screws etc) comes in laminated cards with numbers that corresponded to the numbers given in the instructions. Even with opening about 15 boxes of gear, I was missing not a single component or piece of hardware.
The instructions are done well. Assembling equipment like a lat tower and a crossover from parts is tedious, but the instructions are thorough and I didn't run into any issues.
All of the hardware used for the core rack and the major attachments (chin-up bars, lat tower, crossover) is strong and high-quality. It's not unnecessarily big (Rogue Fitness uses slightly beefier hardware, for instance), but it's also not at all cheap.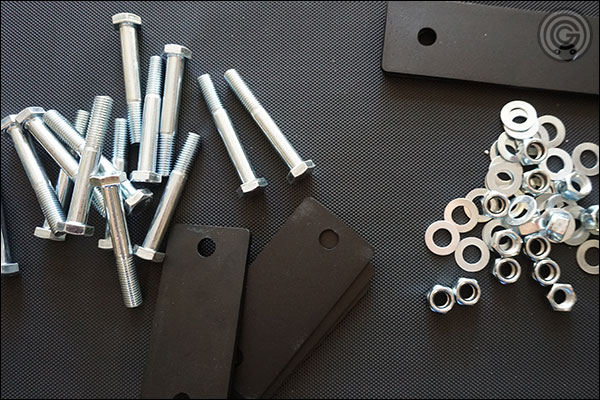 So far the powder coating seems resilient enough. Only time will tell, but so far so good.
Force USA's prices are competitive with other major brands. It's not always an apples to apples comparison in terms of build-quality and features, but this is a more economical line than racks from say Rogue or Sorinex, and in terms of "economy" gym equipment, Force USA does make most other brands look bad.
The MyRack does not have to be bolted down, though it can be if you'd like. The more accessories (like the crossover and lat pulldown) you add, the more stable it becomes as an unanchored unit.
MyRack Cons
As with most non-commercial-grade, home gym equipment, the taller you are the less accommodating the equipment is. I ran into only a handful of height issues at 6'4″, but a handful is still more than zero. I couldn't use the cable crossover for lat pulldowns, and I couldn't use the monolift attachment for squats. Chin bars feel uncomfortably low to me as well, but at least they can still be used.
The MyRack Modular Rack is actually a 12-gauge unit rather than the industry-standard 11-gauge. The design is as such that it's a very strong rack but 11-gauge would've been better for the long-term. Of course it would also make the rack slightly more expensive to both produce and ship.
Additionally, the uprights of the MyRack are 2.4″ square tubing – a configuration that no one else in the industry uses. This means this rack is incompatible with pretty much all other manufacturer's accessories and attachments. You are locked into ForceUSA, and being locked into anyone is less than ideal.
I've mentioned this in various other sections but it's worth mentioning again. Some of the accessories are just misses; like they were totally rushed, or designed by someone who has never actually used a power rack. Fortunately this seems to happen more with the non-essential components like storage pins and that lat chair.
The entire thing should be taller, and there should be holes all the way up the length of the uprights. Tall people may not be pleased.
---
The Garage-Gyms MyRack Build Recommendation
Here is my recommendation for building out a Force USA MyRack. This recommendation is based on both my experience with nearly every component of this system, and my years of experience building out garage gyms in general. This should satisfy most new garage gyms for many years, if not indefinitely.
MyRack Modular Power Rack (obviously)
Deluxe J-Hooks
Box-Tube Safety System
Monkey Bars or Classic Grip Chin-up Bar
Band Pegs
Lat Pulldown (rear mounted)
The Cable Crossover (x2) is a nice touch if you have the space and the funds, but it's a lot of money to spend to add so few movements to your arsenal (though I could argue that the pec and delt fly are two invaluable accessory exercises). Having one side is far less useful, and that's why I recommend the Lat Pulldown if you don't specifically want the pair.
You probably do not need spotter arms for a normal power rack, and you don't need straps with the box-tube safeties. I also don't think a light-duty monolift attachment is the best use of limited funds for the vast majority of lifters.
What I suggest that you not spend your money on is the weight plate horns and the seat for the cable crossover. These two items are under-engineered in my personal opinion and will likely end up in storage (or the trash).
---
Questions I'll Probably Be Asked
Q: Is the MyRack comparable to a Rogue rack?
A: Rogue power racks are beefier and stronger racks, and more accessories are available for them as well. However, Rogue's racks are significantly more expensive; both as a base unit, and to accessorize. Rogue prices are not unreasonable, but generally speaking Rogue racks are not exactly small budget-friendly.
Q: Who is the MyRack for?
A: The MyRack system is ideal for new lifters, intermediate powerlifters and bodybuilders, and anyone who has limited gym funds available. While I think this product could actually handle some big weights, it does lack some of the nuances of a commercial-grade product, and strong lifters just feel more confident moving big weights in commercial-grade racks.
Q: Are any of the MyRack attachments compatible with other racks?
A: Because of the 2.4″x2.4″ square tubing and the rack's dimensions, no, not really. It may be possible to retrofit the lat tower and/or cable crossover to another brand's rack though. I plan to look into that myself, and will publish my findings.
Q: Will you keep the MyRack, or revert to your Rogue rack?
A: I will likely revert to my modified R-3. Why? Mostly because of the height issues that I've mentioned. The MyRack is great – especially with the lat tower – but like the Powertec that I wanted to love I'm just too tall to get maximum benefit from it. Fortunately you're probably not as tall as me and won't have this issue.
---
Force USA MyRack Review Summary
The Force USA MyRack is a well-rounded, sufficiently strong, and versatile power rack that would do well in a great many home and garage gyms. It's a well-designed, fully-functional power rack with lots of features and a very reasonable price. And not just the rack itself; the accessories and attachments are all competitively priced – or at the very least appropriately priced.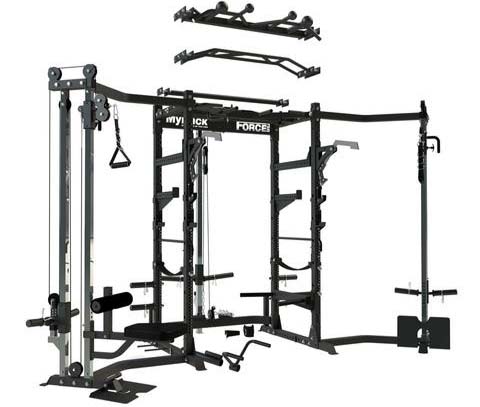 I think the majority of the attachments are useful and reliable, especially the lat tower, cable crossover, all of the chin-up options, and the bulk of the safety options, J-hook options, and miscellaneous accessories. There is a small group of accessories that just don't quite make the grade, but they are few and far between when you consider how many options this rack actually has.
You should probably spend more money on your power rack if you are either tall (I'd say in excess of 6'1″ or so) or if you're a veteran powerlifter putting up impressive numbers. The rack itself is a beast even at 12-gauge, but this rack is definitely not capable of dealing with the same weights that a 3″x3″ 11-gauge rack is, and big boys need big racks.
At the end of the day I have no problem recommending the MyRack. Those of you among us who need something bigger and better will already know that, and don't need me to tell you that. The rest of you will be pretty blown away by the possibilities of this rack and all of its accessories.
---