This is a review for the Super Power Bar, a high tensile strength, stainless steel power bar manufactured by American Barbell.
First I want to say that I hope a power bar will be a welcomed addition to the collection of barbell reviews here at Garage Gyms. The bars that generally get attention on this site are either dual-marked, multi-purpose bars, or Olympic WL bars. Since I am fairly certain that there are just as many big-three lifters out there in those garage gyms as there are Oly lifters, and since I personally get much more joy out of the deadlift than I do the snatch, I figure that a power bar review is probably long overdue.
The Super Power Bar reviewed here no longer exists as a product. You can view and purchase a closeout variation of the Super Power Bar here.   It is essentially the same bar but with a sand-blasted, industrial-style texture given to the shaft. I have not seen or touched this "industrial finish" so I can not offer any meaningful insight into how it feels. This closeout Super has no warranty and may come with blank end caps, but it is heavily discounted at $360 vs the normal $595.  
The Power Bar
So what's the benefit of using a power bar when training heavy compound lifts rather than using an Olympic WL bar or a multi-purpose, dual-marked bar; like say the Ohio or California bar? Well there are a number of features exclusive to power bars that make them a superior choice when it comes to heavy deadlifts, squats, and presses, and they are as follows:
For starters, a power bar needs to have a very firm, reliable grip that won't slip when a lot of weight is involved. You can't expect to pull a heavy deadlift with a weak knurl, and most multi-purpose bars have a soft to medium knurl better suited for moderate weights and high reps. Most of these dual-marked bars also forego the center knurl, an important feature for heavy back squats.
Secondly, a power bar needs to have sleeves that rotate, but not high speed sleeves that spin erratically. This isn't usually a problem with multi-purpose bars since they tend to be bushing bars anyway, but bearing bars are certainly less than ideal.
Finally; and this is probably the most defining attribute of a power bar; a power bar needs to have a shaft of sufficient strength and rigidity to not bounce around during lifts. When you get four or five plus wheels on each sleeve, you want as little springiness in the bar as possible. Bar whip is for the clean and jerk, not the squat.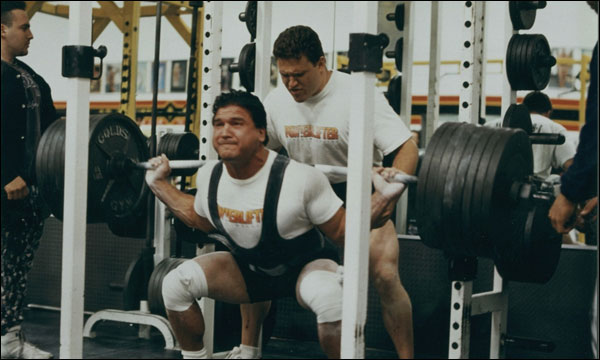 So to sum it up, we want good knurl and a center knurl, moderate but reliable spin, and no whip. These are some of the things I'll be looking at with the Super Power Bar.
Super Power Bar Specifications
Here are the specifications taken from the product page. I have a couple comments about the product listing below.
20 kg men's bar
28.5 mm shaft diameter
Heat-treated stainless steel shaft
Minimum 210,000 PSI tensile strength
IPF hash marks
Moderate knurl w/ 4″ passive center knurl
Low elasticity; very rigid
Machined steel sleeves with hard chrome finish
High tensile strength composite bushing system
Made in California, USA
Lifetime warranty against anything but negligence
Retail price of $595, currently on sale for $360
The image on the AB website does not accurately display the unique coloration of the heat-treated shaft. I understand the desire to touch up images for websites, but this is one of those bars where it might have been best to leave the images alone as the coloration is just super sexy. Hopefully the images of my bar will do the bar some justice.
Also, this bar does not come with the steel blue end caps as the image on the American Barbell site shows, but rather the gun metal color (below) just like the caps on the SS WOD or California Bar. I don't know if the caps were changed at some point, or if the bar in the image is even the correct bar. Personally I like the blue more, so that was sort of disappointing to not get it, but whatever.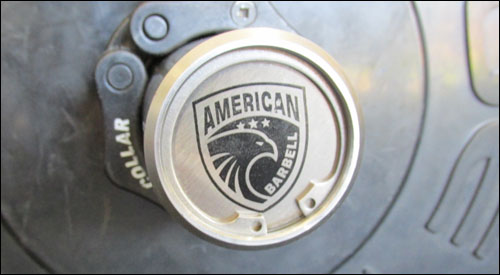 Stainless Steel Shaft
I'll talk about the actual feel and grip of the bar below, but for now I just wanted to point out an aesthetic feature of the bar that I think makes it really cool, and that's the coloration of the stainless steel shaft after being heat-treated.
In the image below, the top bar is the American Barbell SS WOD Bar. This is what a standard stainless steel bar looks like. Below that you can see the heat-treated Super Power Bar. The heat-treatment gives the stainless a darker and almost purplish red shade that transitions in and out with the knurling. It's really neat.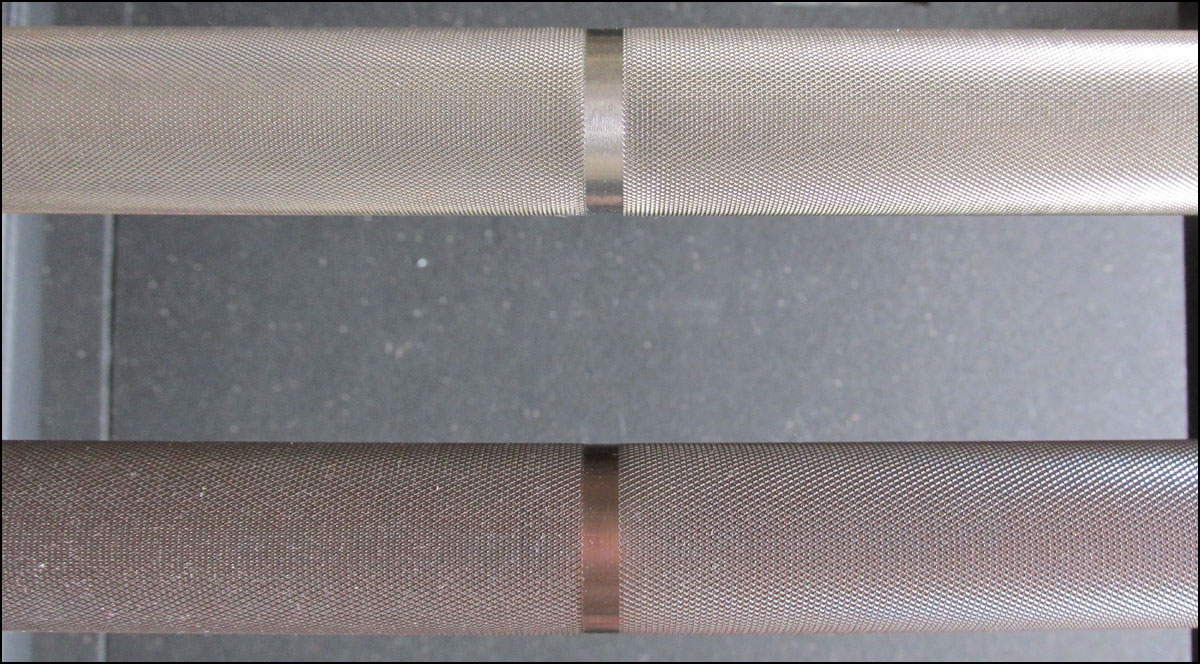 Since my garage doesn't get all that bright, I took the bar outside into the direct sunlight. The darkness of the knurled parts of the bar are obviously not quite so dark in the sun, but you can still see the transition from bright to dark. Very unique and pretty bar, and it's even more so in person.

I realize this has nothing to do with performance of the bar, but in an age when colored rubber bands wrap around sleeves and end caps keep getting more and more colorful and catchy, it's silly not to think that a naturally beautiful and unique bar shaft shouldn't be mentioned or highlighted.
Sleeve Rotation/Assembly
The Super Power Bar utilizes high tensile strength composite bushings instead of bronze; presumably the same composite bushings that are found in all of American Barbell's bushing bars. While for Olympic training bars I find bronze to be a better choice, I think that using composite bushings in a power bar is the way to go. Composite has slightly less spin than sintered bronze does (in my experience), and since power bars don't need to have excessive spin, it's a great match.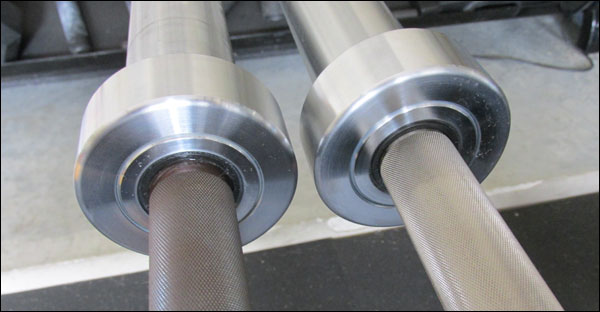 Not only that, but composite bushings theoretically should outlive bronze bushings because of their high tensile strength and superior impact resistance, but since I can't remember the last time I heard about a cracked bronze bushing, this factoid is of very little significance to me. I suppose one could argue that in a bar loaded for an 800-pound deadlift, the bushing could use all the extra strength it could get.
In any case, the Super Power Bar offers more than enough spin for a power bar without being excessive. It functions beautifully for the slow compound lifts, and spins well enough for a smooth turnover in the power clean. No complaints.
Whip
The 210,000 PSI Super Power Bar stays pretty stiff and rigid; as it should. It would be even stiffer if it were it a 29 mm bar, but what can you do. Even the Texas Power Bar is a 28.5 mm bar.
Remember that you can't eliminate flex as plate after plate gets loaded, but you can reduce the springiness, and that's why power bars shoot for the thicker, high tensile strength shafts.
Knurling/Grip

It may come as no surprise to you that I found the grip to be outstanding. As per usual, the refined, moderate knurl on a stainless steel shaft allowed me to effortlessly hold on to the bar during pulls without the need for excessive chalk or straps. Of course with this being my third stainless steel bar, I'm really not all that surprised by this. You just can't beat the feel of a raw steel when it comes to barbells.
If I had to rate the overall grip and feel of the bar, I'd give it a 9/10. It's true that I've given both the other American Barbell stainless steel bars that I've reviewed a 10/10, but since this is a power bar I feel that the knurl could have been just slightly more aggressive, and that's despite the fact that it doesn't necessarily need to be. Powerlifters are likely to not only be used to a sharper knurl on their bars, but to also somewhat expect it.
Still though, the grip is outstanding, and a score of 9 is many full digits higher than most bars I come in contact with. I'd give the thing a 10 if this was a bar for any other application, but no other form of weight training loads up bars with as much weight as powerlifting, and a good chunk of the worth of a power bar revolves around that knurl.
One other thing about the knurl. Not the knurl depth, but rather the placement. The SPB has it's outer knurl closer to the center knurl than most standard bars. I personally don't mind this one bit, but some of you may and I wanted to point it out.
Super Power Bar Review – Summary
I really like this bar. I think the name leaves a lot to be desired, but the bar itself is bad ass. The stainless steel shaft fails to disappoint, and the coloration of shaft makes this bar about as unique as it could possibly be among the standard go-to power bars. The specifications are above average, the measurements all check out, and the hard chrome on the sleeves is actually hard chromium, and not something else entirely; something more than one manufacturer out there misleads us about.
This may shock some of you, but my Chan Bar has been spending a bit more time in the gun rack ever since I picked up this bar. Even though both the Chan and the Super both have nearly perfect grips (despite accomplishing this differently), I have been liking the Super more since it not only feels more rigid, but it also is a much, much quieter bar. Even considering the custom knurl pattern of the Chan and how great it is for deads and power cleans, I still find I'm preferring the Super Power Bar. Of course, this doesn't make the Chan any less of a bar. The Super retails for a lot more cash, so it better outperform a multi-purpose bar in the heavy compound lifts.
The only downside to the Super Power Bar is that price*. I will not argue that $595 for a power bar is a lot of money. Still though, considering the alternatives in the stainless steel department, the price is definitely more than reasonable. Ivanko stainless steel bars will set you back well over a grand. Iron Wolfe bars are stainless steel as well, but expect to pay north of $800 for one of those, and they're only single lift bars (deadlift bar, bench bar, squat bar.)
*The Super Power Bar is currently on sale for $360 instead of the normal $595, and that's an insane deal. If you're reading this after the sale has ended, I'm very sorry! Please leave a comment and I'll remove this section ASAP.
I think it says a lot about American Barbell and their products that their bars make up two of my three favorite bars at the moment. If you're in the market I suggest you take a gander.