This is a review for the new Ohio Deadlift Bar from Rogue Fitness – an extra long, high whip power bar built exclusively for heavy deadlifts. A bar that; as I think most of you will agree; rivals both the Okie and Texas deadlift bars not only in specifications, but also in price.
Review Intro
Rogue Fitness went from hinting about making a deadlift bar to actually releasing the Ohio Deadlift Bar much quicker than most of us expected. A very nice surprise indeed. This faster than usual turn-around appears to be largely due to the amount of R&D and testing that went into creating the Rogue Elephant Bar; the custom 9-foot long beast of a deadlift bar that was used for the 2016 Arnold Strongman Classic. Having to build a deadlift bar tough enough to handle some of the strongest men on Earth (and in time for the Arnold) seems to have fast-tracked the Ohio.
There are two variations of the new Ohio Deadlift Bar and both of them sold out almost immediately upon being released, but thanks to my savvy skills and quick mouse clicking, I was able to secure my deadlift bar on the day it was released. Oh, and if you're curious as to what my savvy skills specifically entailed, well they involved signing up for in-stock e-mail alerts, and being fortunate enough to be at home when I received said e-mail alert.
In any case, I am now the proud owner of a bare steel Ohio Deadlift Bar, and I am happy to be able to give you all of the important details before the next batch is released so that you can be an informed consumer. I will also be providing a chart towards the bottom of the page showing you how the Ohio compares to the Texas Deadlift Bar and the Okie Deadlift Bar.
Ohio Deadlift Bar Specifications
20 kg men's power bar
Shaft Diameter: 27 mm
Length: 90.5″ (vs standard 86″)
Sleeve Assembly: cast bronze bushings/snap-ring
Tensile Strength Rating: 190,000 PSI
Elasticity: high whip
Knurl Configuration: (IPF) power markings with no center
Knurl Depth: very aggressive
Loadable Sleeve Length: 15.5″
Finish: raw steel or zinc
Price: $295 – $350 (bare/zinc)
Manufactured in Ohio, USA – Lifetime warranty
Ohio Power Bar vs Ohio Deadlift Bar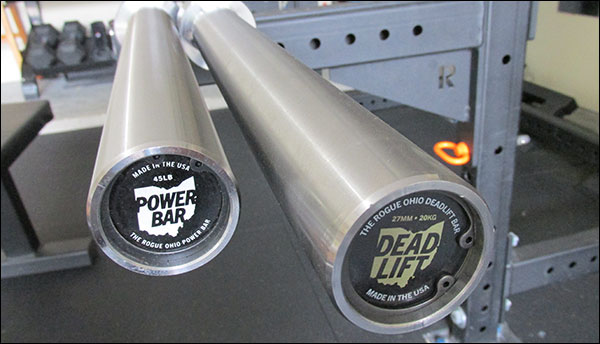 While Rogue's power bar and deadlift bar both share the same name as well as many similarities, they are about as different as they are alike. Among the attributes that they share, they are both bronze bushing bars built around a 190k PSI shaft, they have the same knurl pattern, and both are offered in the same finish options. So what's not the same?
For starters, the shaft diameter of the Ohio Deadlift Bar is 27 mm rather than 29 mm. That's a significant difference in diameter that anyone will be able to feel no matter how big or small their hands are. The purpose of this narrow shaft is primarily to allow for more flexibility, but there is also the side-effect of making the shaft slightly easier (perhaps even much easier) to hold on to.
Another noticeable difference is the total length of the Ohio Deadlift Bar. It's about 4″ longer than the standard Ohio (90.5″ in length versus 86.5″). Additionally, the distance between each sleeve is greater with the Ohio Deadlift, and the shoulders are wider, making the loadable sleeve length shorter. More specifically, there is 56″ between sleeves (vs 51.5″) and 15.5″ of loadable sleeve length (vs 16.25″). Just as with the smaller 27 mm shaft diameter, the point of this whole configuration is to enhance whip. Basically, the shaft is both narrower and longer, and the plates sit further away from the center of the bar.
Finally, the knurl of both bars is the same pattern but the depth is slightly different, which I'll get more into below. Also there is no center knurl on the Ohio Deadlift, but there is on the Ohio Power.
Why the Whip?
We hear time and time again that power bars are supposed to be strong, stiff bars with thick shafts and no flex. So if that's the case why would anyone actually want a power bar that is not only skinny and whippy, but only intended for a single lift? Well the short answer is because people are under the impression that switching to a deadlift bar gets them an auto-increase to their 1-rep max. Is that true?
Deadlifting with a high-whip bar does offer some potential advantages, yes; the biggest of which is simply helping you off the floor. Given enough weight on the bar, you will have pulled the slack out of the bar and moved through the first few inches of the lift before the weights have even broken the floor (image below). What this means is that you are in a stronger and more advantageous position by the time you're actually pulling 100% of the weight. Also, because of this higher "starting position", you now have a smaller distance that you have to pull the full load to lockout.
I suppose another way to look at it would be to say that you're progressively lifting the load while also reducing range of motion. Sure, you still have to move through the same range to get from starting position to lock out, but if the first 3-4 inches off the floor "weighs" less by any amount whatsoever, wouldn't that seem beneficial? Of course, it's important to note that your current 1-rep maximum deadlift needs to be rather heavy already for you to benefit from a deadlift bar. A 225-pound deadlift isn't heavy enough to benefit from whip.
So the answer is yes, it's true that you may be able to raise your deadlift 1RM by switching to a deadlift bar, but only if you already have a respectable max, and only if your weakness is in the hole rather than the lock out.
Now the question becomes: is it cheating to have the shaft of the bar come up a number of inches before the plates break the floor? Is it even productive to your training? That's for you to decide. I'm just explaining that the entire purpose of the skinny, narrow, high whip deadlift bar is to allow you to pull more weight than you would otherwise be able to pull with a super rigid bar. I can think of a couple reasons just off the top of my head why this could be beneficial and detrimental, but I leave that up to you to decide based on your program and your goals.
Ohio DL Knurl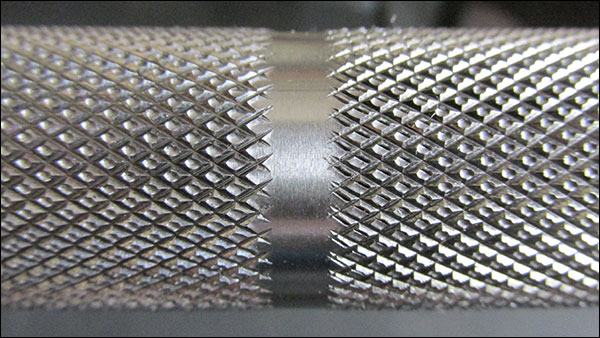 The knurl is just slightly more aggressive than the standard Ohio Power Bar. Rogue actually mentions that it's the same pattern as the Ohio Power only with a hint more depth, which looks and feels about right to me. The shaft being thinner also contributes greatly to the feeling of security. Truthfully, the knurl turned out just about perfectly for the bar's intended application. Very firm without being over the top.
The Deadlift Bar is marked the same as any power bar; IPF marks only. There is no center knurl on deadlift bars.
Ohio Deadlift – Sleeve Assembly/Rotation
I think that it is safe to say that if you've read one review for a Rogue bronze bushing bar, you've read them all. Each sleeve of the ODB has the standard pair of cast bronze bushings, solid assembly tolerances that keep lateral play down, and a snap ring to hold everything in place. Spin is typical of any Rogue bushing bar, and the only thing that's really different is the slightly shorter overall loading length.
I do have one minor issue with the sleeve assembly though. But first, let me preface this by saying that I completely understand that the Ohio Deadlift Bar is not an Olympic WL or multi-purpose CrossFit bar, so it won't be getting tossed around as such. That said, this bar is loud as hell to drop; maybe the loudest bar I've ever heard. Rogue bushing bars are not known for being quiet in the first place, but this one is noticeably louder. I don't know if it has to do with having to make special bushings and sleeves just for this bar or what (Rogue's only 27 mm bar), but it's loud. There's no excessive lateral play so I don't know what gives. Could be a fluke with just my bar. We'll see as folks leave feedback.
Finish Options
Rogue offers the same finish options for the Ohio Deadlift as they do for the Ohio Power: bare steel or black zinc shaft with bright zinc sleeves. As per usual, you can count on a better and more natural feel from the bare steel, not to mention a bar that ages with dignity and costs less.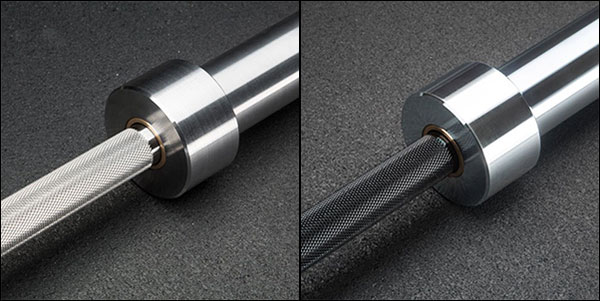 As I mentioned before, I ordered my bar (bare steel) minutes after Rogue released the Ohio Deadlift so I didn't notice this, but I was told the bare steel version was completely sold out within an hour. Only after the bare steel was gone did the zinc fly off the shelves. Goes to show you that I'm not the only one to prefer raw metals versus finishes.
Is a Deadlift Bar For You?
I'll be honest with you, if you're a novice powerlifter with a 225 deadlift, a deadlift bar is probably a poor use of your funds. Whippy as it may be compared to a 29 mm power bar, there needs to be some weight on the bar to see much of a difference between the two. That is to say, a deadlift bar will still feel pretty rigid at lighter loads.
That having been said, there is one advantage to a deadlift bar over the standard power bars regardless of your 1RM, and that is the 27 mm shaft. Holy crap does it feel good to pull with such a narrow shaft. That shaft diameter in combination with the Ohio's deep, firm knurling is just incredible. Having both the Ohio Power and Ohio Deadlift, and knowing that both share the same knurl pattern, I can still say without a doubt that 2 mm makes all the difference in the world.
So if you want to spend $300 for a narrow shaft despite having a relatively low deadlift, that's one thing. But if you think you'll be adding weight for free just because it's a whippy bar, you'll be disappointed until your numbers go up.
Comparison Chart – Okie DL, Texas DL, Ohio DL
Below I've compared the core specifications for the Okie, Texas, and Ohio Deadlift bars. Steel specifications (tensile strength) for the Okie Deadlift Bar is not readily available, so there can be no fair comparison made there. It is unlikely that it is any higher than the Ohio's 190,000 PSI or Texas' 186,000 PSI though, and even possible that it is actually lower.
| | | | |
| --- | --- | --- | --- |
| | Okie | Texas | Ohio* |
|  Base Price | $399 | $399 |  $275 |
|  Est. Price Shipped |  $460 | $460 |  $300 |
|  Weight |  20 kg | 20 kg |  20 kg |
|  Length |  90-7/8″ |  90.5″ | 90.5″ |
|  Shaft Diameter |  27 mm |  27 mm | 27 mm |
|  Collar Distance |  55.5″ |  56″ | 56″ |
|  Collar Width |  1-5/8″ |  2.5″ |  1-3/4″ |
|  Loadable Length |  15.5″ | 14-3/4″ | 15.5″ |
|  Finish | raw steel | zinc/raw | raw or zinc |
|  Knurl | aggressive + | aggressive | aggressive + |
* Price for bare steel Ohio Deadlift Bar, as it is both the superior and more affordable variation.
The overall take-away from this comparison is that all three of these deadlift bars are similar in almost all regards. The two notable differences are that the Texas Deadlift Bar has unreasonably thick collars that lead to a shorter overall loadable sleeve length, and that the Rogue Ohio is significantly less expensive than the other two. Matter of fact, the Okie and Texas are not even competitive once you've paid for shipping (Rogue charges like $17-$25 to ship bars, the other two will run you $55-$65 for shipping.)
I'm not suggesting that you outright ignore the Okie Deadlift or Texas Deadlift based on price alone, as there is something to said for the brands and their reputations. However, an up to $175 price difference is kind of a huge deal, and neither Okie or Buddy are giving you any more barbell than Rogue is for that money. On top of all of that, you get to pick your finish with Rogue – that is assuming either is actually in stock.
Ohio Power Bar Review – Conclusion
I dig the Ohio if for no other reason than the feel of the bare, 27 mm shaft and super firm knurling. Even though I'm personally indifferent to the bonus weight from the whip (I don't compete), I can see replacing my standard power bar for deadlifts with the Ohio based on the feel of the shaft alone. It's a nice addition.
Frankly, Rogue is killing it with their power bars – just shaming the usual, go-to manufacturers on price, specs, and options. All five of the Ohio Bar variations are great additions that are offered at more than reasonable prices, and when you add in Rogue's way-lower-than-average shipping costs for bars, stellar customer service, and lifetime warranties, it's tough to find a reason to not buy Rogue power bars.
Do you need a deadlift bar though? Well that's your call, but if you believe that you do, the Ohio Deadlift Bar should probably be the one you go with.