Welcome to the long-overdue guide for leather power belts. If you're currently in the market, then you've come to the right place. I'll be going over some of the top leather power belt options, and a couple of the better budget leather belts too.
What I'll basically do here is give the big pros and cons of each belt option, offer some feedback based on both my experiences and the opinions of others, and of course list the prices. I'm also going to include links to some additional resources in case you want to check those out.
Since this is really just a break down of your belt options rather than a discussion of the merits of using a belt, I won't be entering into the debate of when to wear a belt or even if you should wear a belt. There is already a ton of that out there. I will however point you in the direction of some of those discussions towards the bottom of the article just in case you're interested.
Leather Power Belts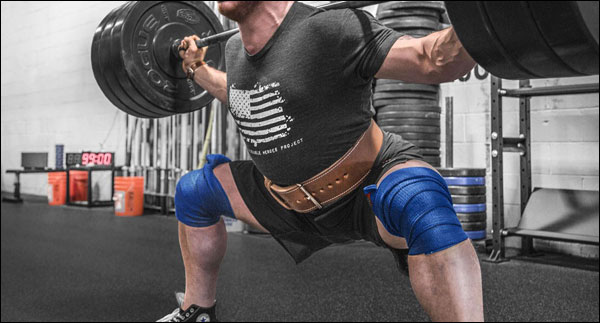 The majority of the belt manufacturers listed here offer belts in both the 10 mm and 13 mm varieties, as well as the option of both single prong and double prong. However, not all of them offer lever belts.
In order to simplify the process of comparing belts from these different manufacturers, I will only be comparing the 10 mm thick, 10 cm tall, single-prong variations of their belts. This is the most common and frequently used belt configuration, so this should be more than adequate for the majority.
Not looking for a 10 mm belt? You should still find the information provided here very helpful even if you are looking for belt of a different variety (13 mm vs 10 mm, lever vs prong, etc) from one of these brands. You can generally expect the level of craftsmanship and the quality of the materials to be the same among the different belts from the same manufacturer.
Also, this is not so much a review as it is a guide. I deliberately only included belts from manufacturers known to produce a good product. You can let factors like pricing, warranty, lead time, customization options, customer service, and so forth dictate which belt you choose, and not have to worry about the quality of the product so much. Here are the belts:
* These belts are offered with a lever in addition to prongs.
† On the International Powerlifting Federation (IPF) approved equipment list.

Inzer Forever Belt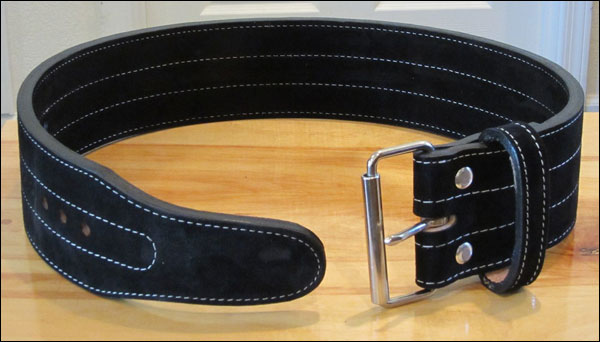 If you've been strength training for any length of time, then you know of the Inzer Forever Belt. It's easily the most talked about and commonly praised lifting belt on the market. Search Google or YouTube for Forever reviews and you'll be blown away by how many there are, and they are all quite positive. Yeah the reviews are borderline cultish, but the fact is that you can't have sold that many belts and gotten that much positive feedback without producing a solid product.
Inzer does a couple special things with their belts that make them so durable. For starters, they use giant, over-sized rivets that will never come out, and smooth spinning, seamless steel rollers in their prong belts. Also, all of their belts have extra rows of stitching that help maintain adhesion between the inner hide and the outer layers of suede. These things are put together really well. I've yet to hear of one falling apart regardless of age.
Inzer doesn't custom size, but they have a ton of size options without a bunch of overlap, and this definitely makes choosing your size much easier than with some of the cheaper belt options that only have a few size options. As you know, when there aren't enough size options for all the different possible body types, the unlucky few that don't fit into those few default sizes end up using holes too far from the middle of the belt to allow for any weight gain/loss, and that's not good.
The only drawback to ordering an Inzer is the mysteriousness of when your belt will show up. Lead time for an Inzer belt in any color other than black is about four weeks, and they don't give shipping notification yet (they're working on it.) Currently, you just place your order and then sit back and relax; your belt will just show up one day. It"ll be a surprise! Full disclosure, most custom belts take a long time to receive so this isn't an issue exclusive to Inzer or anything like that.
For the record, the 10 mm Inzer Forever would be my recommendation for most people if you can afford it.
Pros: Good pricing, levers available, 21 suede color choices, lifetime warranty, refined edges, lots of easily accessible user feedback and reviews, IPF approved, made in USA.
Cons: Mysterious lead times, limited customization options beyond colors, you're in a cult.
Additional Resources: Video reviews galore! | Article Review (13mm)
Rogue Ohio Lifting Belt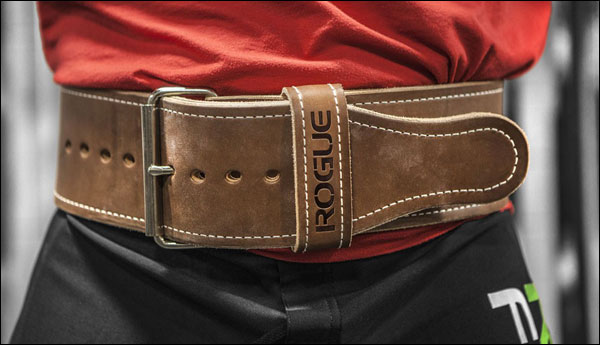 Rogue's Ohio Lifting Belt is a hand-crafted, 10 mm x 4-inch, leather lifting belt. The leather used for this belt is vegetable tanned, which is basically a traditional, environmentally-friendly tanning method that produces a very durable, water-resistant (i.e. anti-bacterial) hide that is not only super strong, but is much softer right out of the box; which means it will require less break-in time.
The Ohio Belt is an extremely beautiful piece of equipment. It offers great support, the craftsmanship is just obvious, and the classic tan color gives it a very rugged, utilitarian look. The $108 price tag is on the high side when compared a lot of the suede-lined belts out there, but not only is this a Rogue product, the vegetable tanning is a more time consuming and expensive process, and that no doubt contributes to the higher cost as well.
On site reviews for the Ohio are outstanding; a solid 5-stars with over 35 reviews and counting, not to mention tons of positive feedback to be found elsewhere. However, while I can't imagine ever having an issue with this belt, there is no mention of warranty in either the product description or under Rogue's Warranty section. That's rather disappointing considering lifetime warranties are offered on other belts.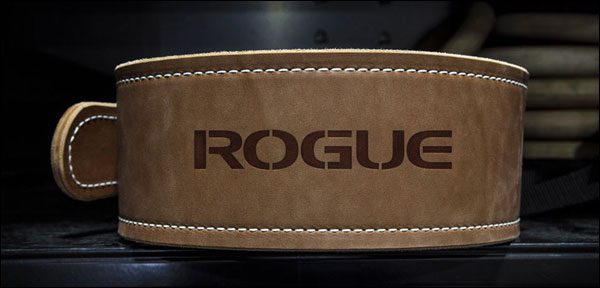 If you prefer a classic, natural looking leather belt over a hot pink or sky blue suede belt, or if you just want a durable, high-quality belt without having to wait weeks or months to get it and more weeks or months to break it in, the Rogue Ohio may just be the belt for you. Personally I think it's flashy in it's own right, and I'm glad someone still makes an "old school" belt like this.
Pros: High-quality leather, natural tanning process, classic look, hand-made, already broken in, made in USA.
Cons: Expensive, no custom options whatsoever, no warranty mentioned, not IPF approved.
Additional Resources: Video Review | Look at Ohio After 1 Year | Actual Product Reviews
Pioneer DS Powerlifting Belt by General Leathercraft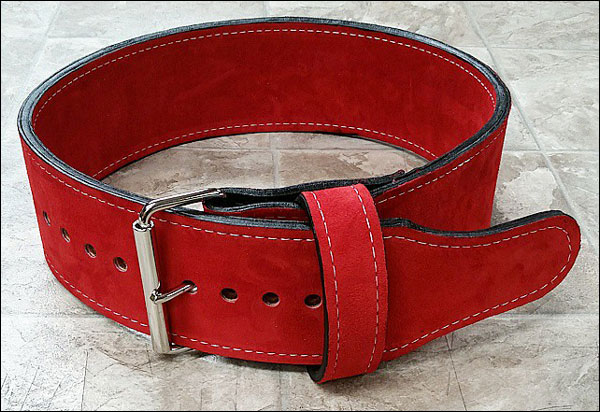 Easily the best starting price for a suede 10 mm lifting belt is for the Pioneer Double Suede Powerlifting Belt. At $64.95, this belt is made by hand using all USA-sourced materials, and is warranted for life. The inner hide is vegetable tanned sole leather, and the outer layers are high-quality garment suede with as many color options as any of the other guys. You also get your choice of single prong or double prong.
What really sets these guys apart from the other brands is the number of customizations that you can choose from. You can add embroidered lettering to the back of the belt, or lettering to the belt hoop in the front. You can also change the color of the stitching, add colored edging, change the buckle color, and even have the inner suede colored. Obviously these customizations will cost extra, but being able to personalize is a nice touch.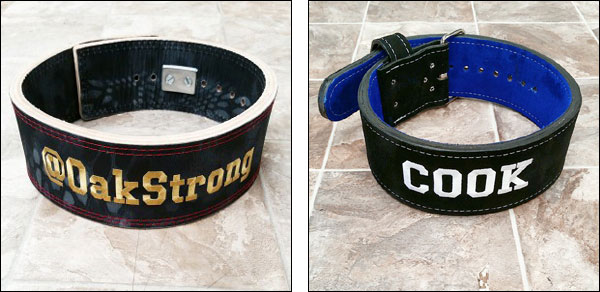 The downside to the Pioneer Belts is that their belts are not certified by the IPF. This probably won't be a problem for the majority of you, but it will be a problem for some; so it must be mentioned. They also only double-stitch the length of the belt rather than use four or even six stitches like most custom belt companies do. I doubt that it would lead to problems, but I guess that there is no arguing that less stitching isn't as good as more stitching.
Pros: Most affordable custom option for single-prong, lifetime warranty, many customizations, can be custom sized by simply asking, lever belts available, fast turn-around time, made in USA.
Cons: Not IPF approved, belts lack extra rows of stitching found on most other custom suede belts.
Additional Resources: Pioneer Belt Discussion | Pioneer Belt Review
Titan Longhorn Powerlifting Belt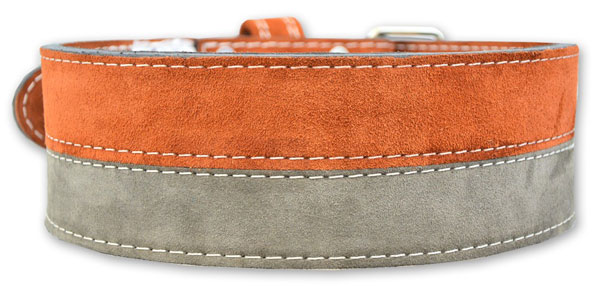 Titan makes a handful of economy belts and a couple high-end belts. Of the high-end belts, they have the Longhorn and the Brahma. The Longhorn is the 10 mm variation of the two, so it's the one I'll be talking about.
Overall, feedback for the Titan Longhorn is solid. The quality and firmness of the leather is right up there with Inzer and Best Belts, and better yet, the consensus seems to be that the Titan levers are of a superior quality to all other levers (it's not uncommon to see Titan levers be used to replace broken levers from other brands.)
The Longhorn isn't really any more affordable than the Inzer. Matter of fact it's a few bucks more at $94. Customization options similar to those found at General Leatherworks are also available, but you can expect your belt to take a ridiculous amount of time to show up if you go custom through Titan. Honestly I'd hit up GL if I wanted a completely custom belt.
One of the most common complaints is the giant, intrusive image logos that Titan slaps on the back of their belts. They're practically a giant advertisement, and they aren't cute. You can work around the logo by flipping the belt if you buy a lever belt, but that won't work if you go with prongs.

Pros: Many variations ship right away, good craftsmanship, best levers in industry, lots of custom options direct from Titan, lifetime guarantee on components, IPF approved, made in TEXAS.
Cons: Custom options are not available through re-sellers, custom options take forever, intrusive logos on rear of belts.
Additional Resources: Video Review | Inzer vs Titan
Bob's Belts' Original Power Belt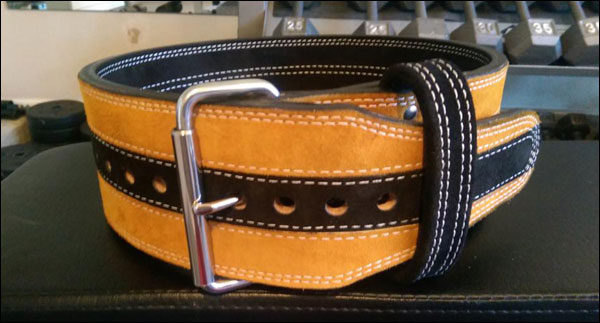 Bob's Belts has been hand-crafting leather power belts longer than any other manufacturer I've covered here. Bob Morris supposedly started the 4″ leather power belt back in 1976 and has been making the very same belt (along with a variety of other lifting belts) ever since. Each belt ordered from Bob's is made custom based on the given measurements; they have no pre-made belts.
I don't personally have any experience with a Bob's Belt, but the consensus seems to be that a Bob's Belt is up there with Inzer; very high-quality and extremely durable. You will pay dearly for a Bob's Belt though, and you will wait a long time to get it (they have the longest lead time in the industry), but you'll have a belt even Louie Simmons would be proud of.
The "Original" 4 inch power belt; which is the belt that is available in either 10 or 13 mm thicknesses; starts at $139 and takes up to 10 weeks to receive. You have a bunch of color options, of course, and some options for personalizing your belt (like embroidery and color stitching), but you have no access to levers, and the belt is no longer IPF certified. If you ask me, this belt is too expensive to not be certified.
I attempted to contact Bob's Belt regarding their belts while writing this article, but I never got a response. I don't know if that speaks to their customer service or not, but I'm certainly not impressed.
Pros: High quality raw materials and final product, experienced company, lots of color and customization options, made in USA.
Cons: Highest prices, longest lead time in industry, no lever belts offered, not IPF certified, customer service?
Additional Resources: Bodybuilding.com Discussion | SS Archive Belt Talk
Best Belts Athlete 10 mm Lifting Belt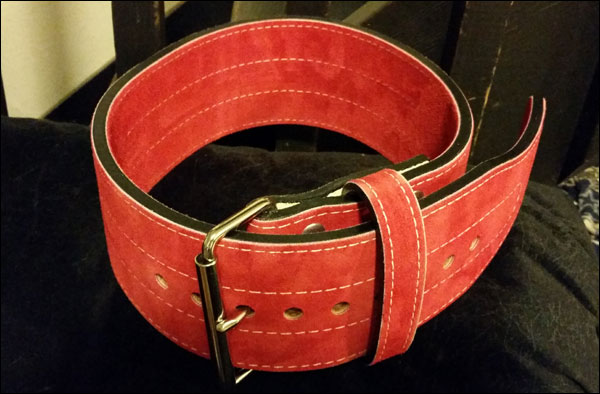 The Best Belts' 10mm Athlete Belt ($97) is another high-quality custom belt option. The craftsmanship is on par with that of Inzer and Titan, but you get the added benefit of a belt that is already broken-in and ready to use when you get it.
There is actually an even better reason to go with Best Belts, and it has to do with sizing. When you order a belt from Best Belts, you don't select your belt from a list of pre-existing sizes. Rather, you provide you own measurements, and they use that number to craft your belt. When you receive your belt, the very center hole should be where the belt fits perfectly, and since you're starting in the middle of the belt you can do some serious bulking or cutting without having to look for a new belt.
Best Belts has a turnaround time on par with Inzer; could be better, could be worse. They don't offer much in the way of customization either. You get about as many suede color options with a Best Belt as you do anywhere else, but no option to embroider the belt, change hardware colors, stitching colors, and so forth. Also, levers are not an option with Belt Belts, and that's an obvious deal-breaker if you want a lever.
I've heard both good things and bad things about Best Belts' customer service. I personally was unable to get a response when I inquired with them, so I guess it's hit or miss. Seems to be a theme in the industry to ignore customers.
Pro: High-quality product, lots of color choices, perfect sizing, belt is already broken in, IPF certified.
Cons: No lever options, long lead time, moderately expensive, limited customization, hit or miss customer service.
Additional Resources: BB Discussion w/ Color Samples | Video Review
Rogue Echo Leather Belt (Economy)

The Echo Belt is Rogue's economy leather belt. At only $50, you get the same reliable support as the Ohio, but you forego the beautiful tan color and white stitching in exchange for black dye and an embroidered Rogue logo. Also because the Echo is not vegetable tanned like the Ohio Belt, you get to break it in yourself. This means the belt is going to be very stiff when you get it, and fastening the belt is going to be much easier than getting it back off again; at least for a while.
I see no reason not use a belt like the Echo if your budget doesn't allow for one of the more expensive suede-lined belts or the Ohio Belt. The fact of the matter is that even some of the not-so-great leather belts out there still last for quite a while before they become too flimsy to offer meaningful support. The Echo isn't my first choice, but it sure beats buying your belt from the sporting goods store.
Pros: Affordable, completely functional, best customer service in the industry, attractive.
Cons: More of a novice belt, very stiff when new, no customization whatsoever, lacks the longevity of more expensive belts, not IPF approved.
Power Belt Guide Summary
There is nothing wrong with any of these belts. In terms of their designed function, all of these belts will serve you well. If you want an Inzer because it's an Inzer, then by all means you should order one; well worth the money. If you need to spend a little less cash or you need it right away, check out General Leathercraft. For the classic look of an old school leather belt, try the Ohio. I don't think you can go wrong with any of these options.
Do I have a personal preference? Yes, Inzer of course… Rogue as well. I'd add Titan, but I hate the artwork on the belts.
A Note About Customer Service
Customer service is always important, but I think that when you order a custom product like a lifting belt it can be even more important. I attempted to contact all of the above mentioned companies that I have not previously had any reason to contact, and here is what I learned about the level of customer service in the custom belt world.
Despite plenty of online feedback to the contrary, Inzer support is good. You won't get immediate responses to emails, but when you do hear back it will be a helpful and thorough response. Sure, it's nice to get same-day responses from companies, but that just isn't how Inzer does things, and if you know this going in, you'll be fine. Having said that, Inzer will not provide a tracking number when your belt ships. Like I said before, your belts arrival will literally be a surprise.
General Leathercraft had the quickest initial response time, and the response was helpful. These guys are definitely the winners in the customer service department, but in the belt business that's not a huge accomplishment.
Bob's Belts and Best Belts both completely failed to respond to emails. They weren't slow, they just never responded at all (nearly a month later this is still true; no response.) Considering the high prices and long lead times from these two dealers, by adding in no customer service I have no reason to recommend them over Inzer, Pioneer, Rogue, or Titan… so I don't.
Hope this has helped. Happy training.
Belt Discussions & Further Reading