I received an email from Rogue Fitness a couple days ago announcing that three Rogue powerlifting products are now approved and certified by the International Powerlifting Federation (IPF); making them legal equipment for sanctioned powerlifting meets. The three products are the 20 kg Rogue Ohio Power Bar, the new Calibrated Kilogram Steel Discs, and the Kilogram Competition Collars.
I know that being certified by both the IPF and the IWF has always been a goal of Rogue Fitness, and I find it pretty cool that one of those goals is now realized and official. Congratulations are definitely in order to Bill and everyone over there at Rogue.
Of course this is good news for American Powerlifting as well because Rogue equipment is actually really affordable when compared to the other equipment on the IPF-certified equipment list. This is especially true of the 20 kg Ohio Power Bar; being that it's only a $325 power bar – and a very good bar at that. Compare that $325 to the price of a bar from the likes of Ivanko, Eleiko, Pallini, and Uesaka; all bars that sell for about twice as much (more in some cases.)
For those of you who already own an Ohio Power, you should know that this certification does not include the 45-pound variation. Even if you own the pound version of the Ohio though, rest assured that it uses the same 205k steel for the shaft, has the same aggressive knurling, and is built to the same high standards. You may not be able to take it to a meet, but you still have a great power bar – and you paid even less for yours than the $325 that is asked for the kilogram version.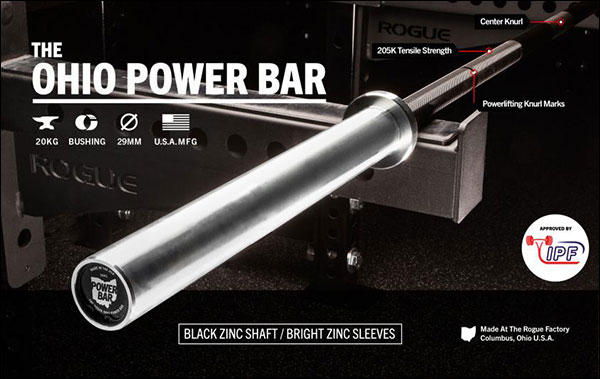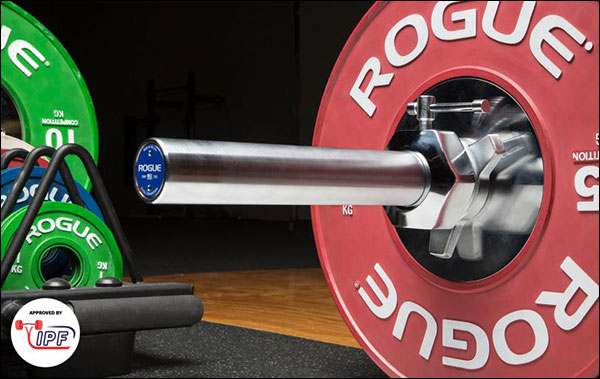 So go set a world record using Rogue equipment – it's legal now.