Eleiko has been busy!
Many of you have already seen the new Eleiko logo and updated Eleiko website. Did you also know that Eleiko is in the process of releasing the next generation of Eleiko barbells? How about the fact that for a limited time you can buy a fully certified IWF Competition Bar for the cost of the IWF Trainer? Well consider yourself informed!
For more information, links to the recent press release, and links to deals, read on!
---
New Eleiko Logo

Most well-established brands update their logos and company image from time to time in an effort to keep things modern and cool, and I suppose Eleiko felt that their 60-year anniversary was a just as good a time as any to update theirs. It's not a drastic change – both logos are simple yet catchy, and I like both equally; not that anyone asked me. Here is what Eleiko's Marketing Manager has to say about the change:
"This new logo is our next evolution. It symbolizes our deep commitment to our legacy in weightlifting and our company's unique story and leadership position, but also supports our expanded focus, reflects our core values and future in strength. It is a fitting way to celebrate our 60th year, and embrace our future as we continue to evolve and grow."
Also, new end caps!
---
The Next Generation of Eleiko Bars (NxG)
Eleiko recently announced their newest generation of barbells; the NxG Collection. At its core, the NxG Collection is a modernization of the entire Eleiko barbell line. Both Olympic WL bars and Powerlifting bars are affected by not only some physical changes to the hardware, but refinements to production techniques as well. Some of these changes are subtle, others are more obvious, but all of them improve an already amazing piece of equipment.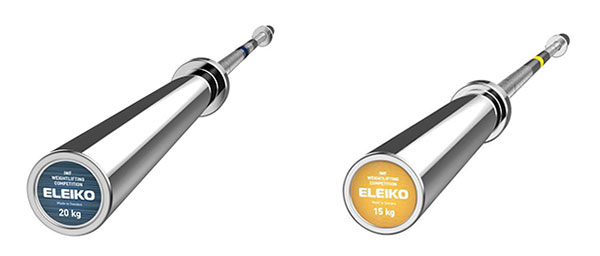 You would think there is only so much room for improvement when it comes to the Eleiko bars. We are talking about the company that other barbell companies not only aspire to, but the barbells that all other premium barbells will ultimately be compared to when it comes to determining their worth. Be that as it may Eleiko still strives to be better, and by combining their 60-years of manufacturing experience with feedback from some of the world's top athletes, there were able to refine and improve upon their product line even more.
So, what changed with the NxG Collection? Well a number of things. For instance, the sleeve assembly has been updated to improve rotation and increase longevity; there have been refinements to how the steel is worked and finished; and the way the bars are knurled has been overhauled almost completely. You can read about all of the changes in more detail by checking out Eleiko's press release. Alternatively, you can watch the video below which summarizes the NxG changes.
Probably the most exciting change is the knurling; at least in my opinion. In case you didn't read the press release, check out the quote below.
"Eleiko's next generation of bars offer more knurling options specifically refined and perfected to meet the varying needs of our growing and diversifying user groups. Eleiko NxG offers this range to enhance the feel and performance for all categories of lifters."
Now I've handled my share of Eleiko bars and I know how the knurl is supposed to differ from bar to bar, but I also know how subtle those differences truly are. To say that the Competition Bar is more aggressive than the Trainer, and the Trainer is more aggressive than the Sport Trainer is technically true, but not by much! If the changes to the knurling introduces clearly defined differences from one bar to the next, well I think that's a great change.
In any case, all the changes look positive, and you can see some of the new NxG barbells already available on the Eleiko USA website. The rest are either in production or en route. Also, because the whole line of Eleiko barbells is affected by these changes, I suspect that some deals on the previous generation of bars will pop up. I'm assuming the entire line of old bars will be retired. Speaking of which…
---
Eleiko Deals!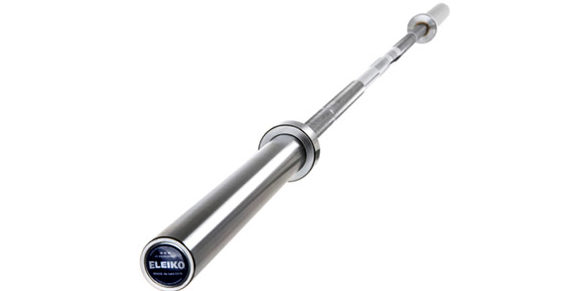 I got word that starting today (August 1st) that the previous generation IWF Competition Olympic Bar is being sold for the same price as the IWF Olympic Trainer, which itself was already discounted from its regular price. Eleiko is asking $829 for a bar that previously was on sale for $999; and will go back to its normal $1049 when this generation is sold through.
Just to remind you, this is Eleiko's top-shelf, fully certified and calibrated Olympic WL bar. This is as inexpensive as this bar gets, so if you ever wanted one, now's the time!
---
I have more content in the works regarding all these Eleiko changes, including a review of the new Sport Trainer; or rather, the new Performance Olympic Bar. Stay tuned!